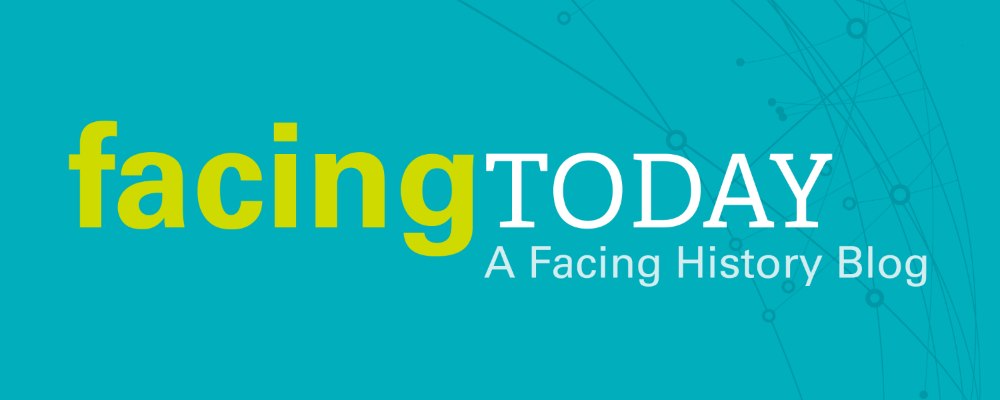 Powerful Poetry: Three Activities to Help Students Connect with History
Posted by Stacey Perlman on April 14, 2016
This month – National Poetry Month in the U.S. – is a great time to explore just how powerful words can be. When it comes to understanding difficult moments in history, poetry and writing can help students process and express their own thoughts about the world. Explore these three ways you can bring poetry into your classroom using tools from Facing History's partner, USC Shoah Foundation – The Institute for Visual History and Education.
Watch: Use testimony to explore how survivors of genocide and mass violence turned to poetry during their darkest times. USC Shoah Foundation's educational platform, IWitness helps educators access more than 1,500 video testimonies of survivors and witnesses to the Holocaust and other genocides. In the excerpt below, Itka Zygmuntowicz recites the poem she mentally composed while she was in Auschwitz and how the act of composing the poem gave her hope for eventual survival and freedom.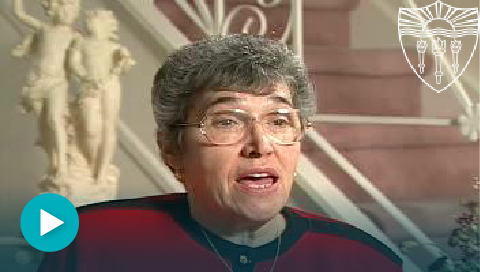 Think: Using the Writing in Exile activity, challenge your students to sharpen their literary analysis, writing and listening, and communication skills. Through this video-building exercise, students will examine the poetry of Lotte Kramer, a German Jew who was placed on the Kindertransport in 1939. Her writing addresses universal themes of family, identity, and memory while touching upon what it means to be in exile.
Write: In the Found Poetry – A language Arts Lesson , encourage your students to write their own found poem . This involves actively listening for poetry in existing work, recognizing language that conveys and evokes feelings, distilling it to the most poetic parts, and then formatting it as a poem. Use this activity to help your students connect with key moments, people, and events.
How has poetry helped you connect with history? Do you have other great poetry activities you use with your students? Share them with us!
Topics: English Language Arts , Poetry , Writing , Genocide/Collective Violence , Survivor Testimony , ELA , Holocaust Education , IWitness

Written by Stacey Perlman
Subscribe to Email Updates
Recent posts, posts by topic.
Choosing to Participate (70)
Facing Technology (69)
History (67)
Democracy (62)
Black History (58)
Teaching Resources (57)
Holocaust (54)
Facing History and Ourselves (52)
American History (51)
Facing History Resources (48)
Identity (48)
Antisemitism (45)
Classrooms (45)
Teaching (45)
Media Skills (42)
Teachers (42)
current events (37)
Holocaust and Human Behavior (36)
Online Learning (36)
Professional Development (35)
Holocaust Education (33)
Civil Rights (32)
Genocide/Collective Violence (32)
Safe Schools (32)
Racism (31)
Human Rights (30)
To Kill a Mockingbird (30)
Civil Rights Movement (28)
Race and Membership (28)
Student Voices (28)
Immigration (27)
Students (27)
Reading List (26)
Teaching Strategies (26)
Upstanders (25)
Critical Thinking (24)
Listenwise (24)
Reconstruction (23)
Women's History Month (23)
Facing History Together (22)
Memory (22)
School Culture (22)
Schools (22)
Survivor Testimony (22)
EdTech (20)
Today's News Tomorrow's History (20)
International (19)
Armenian Genocide (18)
Universe of Obligation (18)
Asian American and Pacific Islander History (17)
English Language Arts (17)
Social Media (17)
genocide (17)
Flipped Classroom (16)
Innovative Classrooms (16)
Native Americans (16)
Holocaust and Human Behaviour (15)
Margot Stern Strom Innovation Grants (15)
Back-To-School (14)
New York (14)
civil discourse (14)
Contests (13)
Human Behavior (13)
Empathy (12)
Bullying (11)
Neighborhood to Neighborhood (11)
Community (10)
Equity in Education (10)
Events (10)
Indigenous (10)
Journalism (10)
Stereotype (10)
Voting Rights (10)
global terrorism (10)
Community Conversations (9)
Refugees (9)
United Kingdom (9)
difficult conversations (9)
Bullying and Ostracism (8)
In the news (8)
Online Tools (8)
Reading (8)
Religious Tolerance (8)
Webinars (8)
Common Core State Standards (7)
Diversity (7)
Latinx History (7)
Memorials (7)
Refugee Crisis (7)
South Africa (7)
Upstander (7)
Webinar (7)
Writing (7)
Facing Ferguson (6)
Jewish Educational Partisan Foundation (6)
Judgement and Legacy (6)
Memphis (6)
Readings (6)
Social-Emotional Learning (6)
The Nanjing Atrocities (6)
Decision-making (5)
Harper Lee (5)
Jewish Education Program (5)
Literature (5)
Museum Studies (5)
Public Radio (5)
Raising Ethical Children (5)
Sounds of Change (5)
StoryCorps (5)
reflection (5)
Assessment (4)
Bryan Stevenson (4)
Common Core (4)
Cyberbullying (4)
Learning (4)
Lesson Plans (4)
Social Justice (4)
Social and Emotional Learning (4)
Teaching Strategy (4)
We and They (4)
international holocaust remembrance day (4)
Beacon Academy (3)
Benjamin B. Ferencz (3)
Cleveland (3)
Eugenics/Race Science (3)
Experiential education (3)
IWitness (3)
Indigenous History (3)
Japanese American Incarceration (3)
Photography (3)
Restorative Justice (3)
Roger Brooks (3)
Salvaged Pages (3)
The BULLY Project (3)
The Great Listen (3)
Twitter (3)
media literacy (3)
news literacy (3)
student activism (3)
transgender (3)
white supremacy (3)
workshop (3)
Black History Month (2)
Brussels (2)
Bystander (2)
Chicago (2)
Civil War (2)
David Isay (2)
Day of Learning (2)
Digital Divide (2)
Essay Contest (2)
Facing History Library (2)
Giving Tuesday (2)
Go Set a Watchman (2)
International Justice (2)
Lesson Plan (2)
Los Angeles (2)
Lynsey Addario (2)
Margaret Stohl (2)
New York Times (2)
Northern Ireland (2)
Online Workshop (2)
Parents (2)
Partisans (2)
San Francisco Bay Area (2)
September 11 (2)
Shikaya (2)
Slavery (2)
Sonia Nazario (2)
Spoken Word (2)
The Allstate Foundation (2)
Toronto (2)
Weimar Republic (2)
Zaption (2)
civic education (2)
climate change (2)
environmental justice (2)
islamophobia (2)
primary sources (2)
resistance (2)
Auschwitz (1)
Black Teachers (1)
Brave Space (1)
Cambodia (1)
Canadian History (1)
Caregivers (1)
Colombia (1)
Deborah Prothrow-Stith (1)
Desegregation (1)
Don Cheadle (1)
Douglas Blackmon (1)
Explorations (1)
Farewell to Manzanar (1)
Haitian Revolution (1)
Hurricane Katrina (1)
Indigenous Peoples' Day (1)
Insider (1)
International Women's Day (1)
Isabel Wilkerson (1)
Latin America (1)
Lesson Ideas (1)
Literacy Design Collaborative (1)
Marc Skvirsky (1)
Margot Stern Strom (1)
Memorial (1)
Mental Health Awareness (1)
Race and Membership in American History: Eugenics (1)
Reach Higher Initiative (1)
Rebuke to Bigotry (1)
Red Scarf Girl (1)
Religion (1)
Residential Schools (1)
Socratic Seminar (1)
Summer Seminar (1)
Truth and Reconciliation (1)
Urban Education (1)
Using Technology (1)
Vichy Regime (1)
Wes Moore (1)
Whole School Work (1)
anti-Muslim (1)
archives (1)
coming-of-age literature (1)
cross curricular teaching and learning (1)
differentiated instruction (1)
facing history pedagogy (1)
literacy (1)
little rock 9 (1)
new website (1)
xenophobia (1)
Exploring History Through Poetry – Lesson Plan
Students research the historical references in "Alabama Centennial" and create an informational presentation explaining the references in the poem.
Length: 5 class periods
Grades: 9-12
Concepts/Objectives:
Students identify literary references to important events in African-American history.
Students analyze how a dramatic reading interprets historical events.
Students create a presentation that describes important historical events in a creative way.
Resource Used: Words Like Freedom Found On: Performance Excerpts
Vocabulary, Materials, and Handouts
Vocabulary: performance elements, purposes of drama; specialized vocabulary: Brown v. Board of Education, civil rights, Jim Crow laws, marches, nonviolent protest, sit-ins, Voting Rights Act
Materials: TV/VCR or DVD player, copies of the poem "Alabama Centennial"
Exploring History Through Poetry Research Questions
↑ Top
Instructional Strategies and Activities
About Words Like Freedom/Sturdy Black Bridges This 60-minute KET production is made up of two parts: Words Like Freedom, which explores the historic struggle of black people in America for freedom and equality, and Sturdy Black Bridges, which highlights the experiences, both pleasurable and painful, of African-American women. Both celebrate the African-American legacy of the written and the spoken word. The program features poets and performers Priscilla Hancock Cooper and Dhana Donaldson, who use oral performance to breathe life into the words of African-American writers.
Pre-Video Activities Distribute the words of the poem "Alabama Centennial." You can find them online at the Veterans of the Civil Rights Movement web site. Ask students to read the poem to themselves and to make notes on a separate sheet of paper, listing the historical references they find in the poem. Students should also write questions they have about these references on their paper, such as, "What is the significance of Greensboro?"
Viewing Activities Watch the video excerpt of "Alabama Centennial" from Words Like Freedom. It is the second poem in the excerpt, following the Sojourner Truth "Ain't I a Woman?" speech. Ask students to consider the following questions:
What is the tone of this poem?
How does the performer's interpretation convey that tone?
Discuss the performance elements employed by the actress as she delivers the poem. The creators of Words Like Freedom, Priscille Hancock Cooper and Dhana Donaldson, devised this "poetic concert," as they call it, to explore the historic struggle of black people in America for freedom and equality. Discuss the purposes of drama in connection with the choice of this poem as part of the poetic concert.
About the Artists Priscilla Hancock Cooper and Dhana Donaldson are spoken-word artists whose creative collaboration began in Louisville more than 20 years ago. Their first "poetic concert," I Have Been Hungry All My Years, was presented at the 1981 National Conference on the Black Family. In 1984 they co-founded the Theatre Workshop of Louisville, which built a dynamic reputation under Dhana's guidance as producing artistic director for ten years. With TWL they combined their writing and directing talents on Four Women (1985) and God's Trombone (1991) and performed together in Amazing Grace (1993). Their creative collaboration has endured over time and distance. Priscilla now lives in Birmingham, AL, where she is a consultant to arts and education institutions both there and in Louisville and where she has established a reputation as a poet and writer. Dhana continues her work as an arts administrator, consultant, and performer from her base in Cincinnati. They return often to Kentucky and are available for performances. In fact, a new version of Words Like Freedom continues to be a performance in their repertoire.
Post-Video Activities
Ask students to research the historical events mentioned in the poem, explaining the references in the poem and their historical significance.
Have students create informative presentations based on what they've learned from the poem. These could be dramatic readings, PowerPoint® presentations, collages, or timelines.
Assess the students' understanding of the historical references in the poem and their projects. This is an opportunity for them to show what they know by interpreting historical events creatively.
Writing To Communicate
Literary writing: Have students select a contemporary issue of personal significance to them and write a poem that explores or interprets that issue. Ask students to use descriptive language and literary devices.
Applications Across the Curriculum
Language Arts
Have students select a writer who has written about the civil rights movement or about the experiences of African-American women and ask them to read more of their work. Have them present what they've learned about that writer to the class along with a brief reading from the writer's work. Some writers to consider include Sojourner Truth, Langston Hughes, Carolyn Rodgers, Dudley Randall, Nikki Giovanni, Alice Walker, Maya Angelou, and Toni Morrison.
Social Studies
Show the complete 30-minute performance of Words Like Freedom. Have students write about and discuss what they learn about the issues and attitudes that faced African Americans in their struggle for citizenship rights. Ask students to explain how the video reinforced, contradicted, or changed their previous knowledge or perceptions.
Show the 30-minute performance of Sturdy Black Bridges. Have students write about and discuss what they learn about the experiences of African-American women. Again, ask them to explain how the video reinforced, contradicted, or changed their previous knowledge or perceptions.
Have students research and prepare a presentation on the relationship between the civil rights movement and the women's movement since the Civil War.
Cross-Disciplinary
Have students research, write, and perform short role-plays about the men and women who have been activists in the struggle for African-American freedom, from slavery through today. Examples: Sojourner Truth, Harriet Tubman, Frederick Douglass, Ida B. Wells, Rosa Parks, Martin Luther King Jr.
Have students watch and analyze the actions, voice, breath control, diction, and body alignment of the two performers. How does their presentation of the material communicate the themes/messages of the poem? Have students apply what they've learned about the dramatic performance of poetry to their own performance of a poem, either their own or one by a poet of their choice.
Have students find and bring in a rap recording that deals with one of the themes in "Alabama Centennial" (e.g., freedom, identity, pride). Have students write and perform, either individually or in groups, their own rap about one of these themes.
Performance Assessment
Performance Event: Students create an informative presentation based on the poem "Alabama Centennial."
Directions:
Research the historical references in "Alabama Centennial."
Create a presentation that further describes and creatively interprets the poem's references. Options for the presentation include dramatic readings, story vignettes, PowerPoint® slides, timelines, or collages.
You will be assessed on your understanding of key historical events. Research how the following terms relate to the poem: civil rights, slavery, Jim Crow laws, Brown v. Board of Education, sit-ins, marches, and the Voting Rights Act.
Performance Scoring Guide
Support - Connections - Resources - Author
Civil Rights Movement Veterans (crm.vet.org) includes stories, information, and poetry from veterans of the movement, including the text of the poem "Alabama Centennial" by Naomi Long Madgett.
The Rise and Fall of Jim Crowe a companion web site to the PBS series, offers narratives, maps, and images regarding the civil rights movement and African-American history.
The Civil Rights Era from the Library of Congress African-American Odyssey project (memory.loc.gov/ammem/aaohtml/exhibit/aopart9.html) features items from a related exhibit, including newspapers, music, and photographs.
KET broadcast schedule and downloadable teacher's guide (PDF format) for Words Like Freedom/Sturdy Black Bridges
Author: Mary Henson
See more resources for:
See more resources about:.
Arts & Music
English Language Arts
World Language
Social Studies - History
Holidays / Seasonal
Independent Work Packet
Easel by TPT
Google Apps
Interactive resources you can assign in your digital classroom from TPT.
Easel Activities
Easel Assessments
Unlock access to 4 million resources — at no cost to you — with a school-funded subscription..
historical poetry
All Formats
Resource types, all resource types, results for historical poetry.
Price (Ascending)
Most Recent
Beowulf Digital Escape Room Review: Literary Introduction & Historical Context
Also included in:  ELA Digital Escape Room Review Bundle
One Way Ticket: Using Poetry to Analyze The Great Migration
Black Out Poetry Civil Rights Reading, Writing & Art Project
Paired Passages with Poetry and Informational Text - PDF & Digital
Oranges by Gary Soto 17-Page Poetry Unit - Questions, Activities, Test
Also included in:  Poetry Unit BUNDLE - 12 Units - Analysis, Writing Activities - Print & Digital
British Literature: The English Renaissance - Historical and Literary Background
Poetry Task Cards - STAAR Test Prep/Review
Also included in:  Task Card BUNDLE #1 (Poetry and Informational [Expository] Text) - STAAR Prep
Poetry: 3 Kinds of List Poems | Distance Learning
Also included in:  Poetry Bundle: Alliteration, Simile, Bio, & List Poems | Distance Learning
Francis Scott Key Star-Spangled Banner Poetry Analysis Print & Digital
Also included in:  US History 1800s Poetry and Patriotism Mini Unit Print & Digital
Introduction to British Romanticism, 1798-1850
Also included in:  British Romantic Poetry BUNDLE
STAAR Fill In Worksheet for Other Genres POETRY HISTORICAL FICTION Drama SciFi
Civil Rights Movement Heroes - Poetry - Writing "I Am" Poems
Generic Blank Research Flip Book For Any Historical Event, Activities
Also included in:  Generic Blank Research Flipbook Project Bundle, Activities
Poetry Unit BUNDLE - 12 Units - Analysis, Writing Activities - Print & Digital
Historical Poetry Project- Humanities Cross-curricular
Maya Angelou Author Study, "Still I Rise" analysis
Frankenstein Introduction & Historical Background (Unit Lesson #1)
Phillis Wheatley Activity Pack
A Poem for My Librarian, Mrs. Long Poetry Unit and Quiz | Print & Digital
The Road Not Taken by Robert Frost, 19-Page Unit - Questions, Activities, Test
Beowulf Epic Poetry Historical Context PowerPoint Presentation
Also included in:  Beowulf & Epic Poetry Novel Unit
Reading Genre Posters
The American Dream in literature and today unit plan
A Study in Historical Epidemics Through Poetry Paired Texts Thematic Unit
TPT empowers educators to teach at their best.
We're Hiring
Help & FAQ
Terms of Service
Trademark & Copyright
Privacy Policy
Student Privacy Policy
Keep in Touch!
Are you getting the free resources, updates, and special offers we send out every week in our teacher newsletter?
9 Meaningful Poetry Activities for Women's History Month
March 9, 2022
AP Literature , English 11 , Poetry
March is upon us and with it comes Women's History Month and March Madness and the Ides of March and St. Patrick's Day and the first day of spring. There are so many directions that we can take our English classes in the month of March. Truthfully, it's one of the best things about being a high school English Teacher. There are just so many ways to TEACH the SKILLS. So today, I thought I would share nine poetry activities for Women's History Month and the skills that they help students to focus on developing.
9 Poetry Activities for Women's History Month
Examine tone and/or point of view.
I fell down the rabbit hole on poets . org the other day and I found the poem "Representation" by Alice Duer Miller. She is a poet I have never heard of before, but she was clearly a suffragette. Most of the poems on her author page were related to women's rights and I highly recommend you check out a few of them, but "Representation" stood out immediately because I knew that it was an access point for teaching students to recognize tone.
Miller's speaker is clearly not the author (another great thing about the poem because sometimes it's hard for kids to fathom that the speaker of a poem is NOT the poet). It give students opportunities to do close reading for diction, tone and speaker.
Lesson Idea:
Make copies of the poem "Representation" for all of the students.
Read the poem out loud and discuss the parenthetical statement at the beginning of the poem.
Divide the class in half. One half will do a close reading of part one and the other half will do part two. Have them put boxes around the verbs and circle the pronouns.
In smaller groups (3-4) have students discuss what they observed about the words they marked, especially the verbs. Ask them to think about what the diction in the poem suggests.
Have them refer to a tone word list and pick 3-4 words that apply to their part of the poem.
As a class, come back together. Have groups share out their words. Come to consensus about which one word best describes the tone of the poem.
Finish up with a quick write to explain the tone of the poem.
Resources for this Lesson:
Additional Poems:
"The Lighted Window" Sara Teasdale
"The Modern Woman to Her Lover" Margaret Widdener
Ready to Use: Tone Anchor Chart with Tone Words List
Ready to Use Lesson: Tone in "Representation" by Alice Duer Miller
Introduce Feminist Criticism
March is the perfect time to introduce your students to Feminist Literary Criticism. Have students examine the role of women in the poems or the role of the authors. Using literary lenses is a great way to get students to focus their close reading.
Feminist Criticism Activities for Women's History Month
Use task cards to create stations.
Feminist Criticism Jigsaw: give each group the same question but with different poem. Have the expert groups share with different groups or with the whole class.
Have students explore poems by women on Poets.org . Then they choose their own poem by a woman author to apply the feminist lens.
Resources for these Activities:
Poems:
"Diving into a Wreck" Adrienne Rich
"The Moose" Elizabeth Bishop
"Daddy" Sylvia Plath
"Doors Opening, closing on us" Marge Piercy
"The Bean Eaters" Gwendolyn Brooks
"Quilts" Nikki Giovanni
Ready to Use: Fe minist Criticism Anchor Charts and Task Cards
Collaborative Annotations Activities for Women's History Month
Collaborative Annotations are are great activity for close reading anytime, but Pass-a-Passage and Poster Annotations work particularly well for annotating poems. For more on how to do these types of social annotations, check out this post .
Resources for this Lesson
"Wild Nights—Wild Nights!" Emily Dickinson
"Four Winds" Sara Teasdale
"Joy" Clarissa Scott Delany
"Recurrence" Dorothy Parker
"Paradox" Georgia Douglas Johnson
Hexagonal Thinking
Hexagonal thinking makes use of the six sides of a hexagon to challenge how students link similar and disparate ideas. You can combine this with one of the other activities for Women's History Month by having student first study a series of poems through a feminist lens or collaborative annotations, then have them work to link ideas on the hexagons. This is great for critical thinking and synthesis.
Free hexagonal thinking tool kit from Spark Creativity.
Poetry Stations Activities for Women's History Month
Stations are a great way to expose students to a variety of poems by women. There are a few ways to design stations for poetry. The skills that your students focus on are endless and dependent on how you set up your stations. Here are some ideas:
Set Up One: Set up 4-6 stations each with a different poem where student complete the same activity like looking a tone or reading for diction or structure.
Set Up Two: Set up 4-6 stations. At each station, the students complete a different activity with the same poem. If students are moving in smaller groups, each group could have a different poem. Task Cards are a perfect way to set up stations quickly.
Set Up Three: Set up 4-6 stations that include history, information about the authors and poems.
Resources for this Activity:
Ready to Use: Literary Terms Anchor Charts and Task Cards
Ready to Use: Feminist Criticism Anchor Charts and Task Cards
Four Corners
In a Four Corners activity, you post four opinion statements. Students then move to the one that they agree with most. For this activity to work with poetry, you could post statements related to the themes of a series of poems or you could post poems themselves. Once students have moved to the corner they will work with, they should hold a discussion in the group and perhaps produce something in writing.
Poems about Suffrage on poet.org
Ready to Use: Ophelia Four Corners (not strictly poetry, but does result in a feminist reading of Act 4 of Hamlet )
Gallery Walk for Women's History Month
A gallery walk for poetry can be done in a number of ways. You can set up the posters ahead with a variety of poems by female authors. I like these poems (listed below) that were written for the 100th anniversary of the Nineteenth Amendment giving women the right to vote. Then give students a note catcher to collect quotes from the poems or other information.
You could also hang enlarged poems and have the students make comments right on the poems using sticky notes or markers.
Another way to do a poetry gallery walk is as a follow up to collaborative annotations. If groups work on poster annotations, once they are done, other students could walk around and learn about the poems completed by the other groups.
Resources for this Activity
Poems about the 19th Amendment:
"19th Amendment Ragtime Parade" Marilyn Chin
"The Sound of Their Names" Ella Bass
"The 19th Amendment & My Mama" Mahogany Browne
"One Vote" Aimee Nezhukumatathil
"Voting-Machine" Maggie Smith
Women's History Month Poetry Slam
A Poetry Slam is a brackets style competition. For more on how to host a poetry slam, head to this post.
Poetry Slam Themes for Women's History Month
Contemporary Women Poets vs. Women Poets from before 2000 (or whatever date you choose)
American Women Poets vs. non-American Women Poets (British, Canadian, etc.)
Poems about motherhood vs. Poems about childhood
Nature poems vs. Urban living poems
Political poems vs. Poems about the home
Ready to Use: Poetry Slam Guide (free)
Reader Response Dialectic Journals
You can use reader response dialectic journal with any poem. The students can have the whole poem in the first column or they can just copy lines. Then in the second column, they respond. For more on Reader Response, be sure to check out this post.
"Still I Rise" Maya Angelou
"In this Place" Amanda Gorman
"Praise Song for the Day" Elizabeth Alexander
"More than Something Else" Rainy Dawn Ortiz
Women's History Month is the perfect time to do some poetry with you students and the 9 activities for Women's History Month are a way to celebrate the long history of women in poetry. I would love to know if you have any activities that you love to do combining Women's History Month and poetry.
Additional Resources
Women in Poetry Unit from poets.org
Celebrating Women's History Month Collection from the Poetry Foundation
4 Simple Solutions to Teach Poetry Analysis
more from the blog
Teaching the Journey of the Hero in High School English
I can't remember exactly when I learned about the 12 steps in the journey of the hero, but I do remember that I knew immediately
Teaching Macbeth: 19 Supplemental Texts
Teaching Macbeth is hard. Teaching Shakespeare is hard. That's why I have started a new blog series in which I share themes, essential questions and
The Sonnet in Poetry:  Teaching Sonnet Analysis
My Sonnet in Poetry Mini Unit is one of my favorite poetry units of all time. It is so quick and yet, at the end,
2 Responses
Pingback: 12 Poems for AAPI Heritage Month - SmithTeaches9to12
Pingback: 6 Ideas for Women's History Month - SmithTeaches9to12
Leave a Reply Cancel reply
Your email address will not be published. Required fields are marked *
Save my name, email, and website in this browser for the next time I comment.
Hi, I'm Jeanmarie!
I help AP Literature and High School English teachers create engaging classrooms so that students will be prepared college and beyond.
Learn more about me and how I can help you here 
Let's Connect!
Your free guide to planning a full year of AP Literature
AP® is a trademark registered by the College Board, which is not affiliated with, and does not endorse, this product.
Benefits to Participating Communities
Participating School Districts
Evaluations and Results
Recognition Accorded
National Advisory Committee
Establishing New Institutes
Topical Index of Curriculum Units
View Topical Index of Curriculum Units
Search Curricular Resources
View Volumes of Curriculum Units from National Seminars
Find Curriculum Units Written in Seminars Led by Yale Faculty
Find Curriculum Units Written by Teachers in National Seminars
Browse Curriculum Units Developed in Teachers Institutes
On Common Ground
Reports and Evaluations
Articles and Essays
Documentation
Video Programs
Have a suggestion to improve this page?
To leave a general comment about our Web site, please click here
Share this page with your network.
Teaching History through Poetry
Introduction.
Making Europe's Renaissance relevant and accessible to urban youth can be quite a challenge. The geography, art, music, and literature seem so far removed that it can be difficult to give my students an entree into the history and language of that time period. Nevertheless, I have spent the past several years teaching middle school English, and I have found that students learn best when they can use their prior knowledge to make connections to new concepts. Since my students enjoy writing poetry, I will use the Shakespearean sonnet as an introduction as well as a tool for analyzing the Renaissance.
Students will explore the guiding questions, "Why do people write poetry?" and "What can we learn about history through poetry?" Through a series of engaging lessons, students will learn how to read poetry, beginning with familiar forms and then moving on to closely examine a selection of Shakespeare's sonnets and discover what is revealed through the speaker and intended reader about the poems' cultural and historical circumstances. Students will develop the skill of making inferences from poems and then use those inferences to construct historical context, which they will compare with their readings in the history textbook. Finally, students will write a sonnet series of their own which will be discussed by their classmates.
This unit will cover both History and English standards. History standards require students to understand advances made in literature, the arts, science, mathematics; to explain the importance of Florence for the early stages of the Renaissance; and to describe how the "rebirth" brought about an interest in what was called Humanism. English standards addressed in this unit will include analyzing figurative language, identifying various forms of poetry, using context clues to clarify word meaning, analyzing characterization and recurring themes. My rationale for addressing both standards is to develop theme-based cross-curricular units that will allow my students to develop their literacy skills while studying a subject in depth. Instead of separating the two subject areas, developing a unit integrating the two subjects will allow students to develop their literacy skills while deepening their historical understanding.
This four-week unit is intended for my seventh grade Humanities class in a small urban school where over half of the student population qualifies for free or reduced lunch. The majority of my students are African American, and several other backgrounds are also represented in my classroom, including Latino, South Asian, and Yemeni students. My classes are inclusive of students with Individualized Education Programs (IEPs) as well as English Language Learners (ELLs), and I have a range of skill levels from several years below grade level to high achieving students.
First, students will analyze Maya Angelou's poem "Still I Rise" and Gary Soto's "Ode to Los Raspados" by considering the speaker, intended reader, theme, figurative language, and historical background. I selected these poems because students will find them engaging and understandable. Students will need to recognize that the speaker and writer are not necessarily the same person. As they read, they will learn the concept of theme. Figurative language will be analyzed as students discuss the comparisons made and why the writers selected those particular metaphors and similes. The final component of analyzing these poems will be to extrapolate from what the poems say to their historical and cultural settings.
Once students have learned how to read and analyze poems, they will identify the characteristics of Shakespeare's Sonnet 29 and carry over the tools of analysis gained from their study of the Maya Angelou and Gary Soto poems. Students will deepen their understanding of poetry by explaining the role of structure, alliteration, and rhyme. They will understand the form of a Shakespearean sonnet. Based on their analysis of the sonnet, students will make inferences about Renaissance culture.
By this means students will begin making educated guesses about the general characteristics of the Renaissance. After they have made their inferences based on the sonnet, they will read about the Renaissance in their textbook. They will compare their inferences to what it says in the book and then reread the poem to see if they can find other connections they had not discovered upon the first reading. At this point in the unit, I will introduce another sonnet, and students will understand the basic protocol for reading and discussing a poem. As they read the sonnet, they will come to notice the ways in which the poem is a cultural artifact of the Renaissance yet also contains universal themes we can still relate to.
Reading about the Renaissance will give students a basic understanding of the time period, but I want them also to examine the circumstances under which this "rebirth" took place. They will explore cause and effect relationships found in expository texts concerning what led to the Renaissance. Many of California's English Language Arts standards for the seventh grade focus on expository text, so it will be crucial for my students to have the skills to independently read this form of writing.
Next, students will compare and contrast the Middle Ages with the Renaissance. Students will have already studied the Middle Ages in a previous unit, and the period will have resurfaced in their discussions of what led to the Renaissance. They will now take some time to reflect upon the similarities and differences between the two periods, relating these similarities and differences to the cause and effect relationship explored in the previous objective. Once again, students will come back to the sonnet to reinforce their understanding of the Renaissance.
My final content objective is for students to understand the form of a sonnet sufficiently to create their own sonnets. Students will be assigned characters that they will need to bring to life as speakers of their poems. This will require students to think critically and deeply about their word choices, finding figurative language suited to the time period.
In addition to these content objectives, I will also address language objectives to meet the needs of all students, especially my English Learners. My first language objective is for students to get used to certain specialized descriptive terms when discussing content. In addition, I want them to learn content-related vocabulary. I have noticed that my students are able to quickly grasp concepts, but they don't often know the words to articulate those concepts. Content related words that students will need to learn include: sonnet, iambic pentameter, speaker, tone, mood, metaphor, simile, personification, volta, Renaissance, Humanism, secular, city-state, republic, and patron. Teaching students necessary vocabulary will help them engage in well-informed discussions throughout their education and increase their performance on standardized tests.
Teachers will need background knowledge concerning both the historical context and the pertinent poetry in order to teach this unit. This unit also assumes that students have some prior knowledge—for example of the Middle Ages and of the general concept of cultural periods. It is designed for an inclusive classroom, so strategies for differentiating curriculum within a diverse group will be presented later. The information needed for each of the objectives will be presented in chronological order below.
"Still I Rise" by Maya Angelou
Maya Angelou's poem, "Still I Rise," was published in a 1978 collection of poetry of the same title. Giving students some information about her life may help students engage more in a discussion about whether she is the speaker of the poem. Maya Angelou was born in 1928 in St. Louis, Missouri, and during her childhood she lived with her grandmother. Her novel , I Know Why the Caged Bird Sings , describes how literature and the spoken word helped Marguerite rise up from a five year period of being mute after she was sexually assaulted as a child by her mother's boyfriend. The novel's setting in the segregated South allows Angelou to demonstrate resistance to racism within the context of that time period and geography, while at the same time creating a piece of writing that can resonate with many. Angelou's life and literature demonstrate the resilience reflected in her poem "Still I Rise."
Students will need to understand that the speaker of the poem is not necessarily the author. The term speaker refers to the voice that expresses what is said in the poem. In their study of literature, students might be familiar with the term narrator. I will use this background knowledge to help them understand the concept of the speaker. Just as an author creates a character called the narrator to tell a story, a poet creates a character known as the speaker. Students will use their knowledge of characterization to describe the speaker. They will make inferences about the speaker's character traits based on word choice and tone. Angelou's speaker refers to herself as "I," and there is also an intended reader directly addressed as "you."
In order to effectively analyze figurative language, students need to be familiar with the concepts of metaphor and simile. "Still I Rise" is a poem full of comparison, and students should be able to identify the types of figurative language used and consider how they shape the meaning, exploring the writer's possible rationale in choosing certain comparisons. This exploration of figurative language can lead to a rich discussion about not only the meaning, but also her choice of words.
The comparisons used in this poem also allow us to make inferences about the historical context. For example, Angelou expresses, "I walk like I've got oil wells pumping in my living room." This comparison is indicative of what resources are considered valuable in our world today. Since oil is a valuable resource to us, students can discuss why somebody who has oil wells pumping in her living room would walk in a different way from somebody who has something of little value in today's world. She ends the poem with the following metaphor with broad historical resonance, "Bringing the gifts that my ancestors gave, I am the dream and the hope of the slave, I rise, I rise, I rise."
"Ode to Los Raspados" by Gary Soto
I chose Gary Soto's "Ode to Los Raspados" because it is exemplifies a speaker who is clearly not the author. This poem is written from the point of view of a young girl whose father drives an ice cream truck. Students will be able to see how the "I" in this poem is not Gary Soto, but a speaker that he has created to express this poem. This poem is also full of imagery, so students can also how imagery is used in poetry.
This poem is found in Gary Soto's collection titled Neighborhood Odes . The odes are celebrations of Mexican-American culture from the point of view of young people. Gary Soto's short stories and poems are found in many state adopted textbooks, so students may already be familiar with his work.
After analyzing Angelou and Soto's poems, students will begin their study of the sonnet. The word sonnet comes from the word sonneto, meaning "little song" in Italian. It refers to a form of poetry that became popular in 14 th century Italy. Francesco Petrarch, an Italian poet and humanist, popularized this form of poetry. A Petrarchan sonnet consists of fourteen lines divided into an octet, the first eight lines, and a sestet, the last six lines. The sestet begins with what is called a volta, or turn, which signifies a shift in the tone of the poem. The octet often poses a problem, while the sestet offers resolution. The rhyme scheme of a Petrarchan sonnet is ABBAABBA CDECDE.
Petrarch lived near Florence from 1304-1374 during the early Renaissance. He is often referred to as the "Father of Humanism." The term Humanism refers to the values arising during the Renaissance that came from a revival in the study of classical literature. He challenged the prevailing form of education and advocated a return to classical studies, asserting that they could exist alongside Christian spirituality. Petrarch was especially drawn to the Roman philosopher and rhetorician Cicero. His work emphasized self-awareness, human virtues, and secularism.
Sir Thomas Wyatt and Henry Howard, Earl of Surrey, brought this form of poetry to England in the early 16 th century. They translated Italian sonnets into English. Sir Philip Sidney's sonnet sequence Astrophil and Stella blazed the trail for sonnet sequences by others, including William Shakespeare, Edmund Spenser, and Samuel Daniel.
William Shakespeare wrote poetry and plays in the 16 th and 17 th centuries. Shakespeare's known works include thirty-seven plays and 154 sonnets. There is a lot of inconclusive speculation as to the identities of the intended readers. Like Petrarchan sonnets, Shakespearean sonnets also have fourteen lines. However, the form differs. In a Shakespearean sonnet, the rhyme scheme is ABAB CDCD EFEF GG. The turn in a Shakespearean sonnet is usually found at the beginning of the couplet. The sonnets are written in iambic pentameter, which means that each line has ten syllables broken down into 5 sets of stressed and unstressed syllables.
In Shakespeare's Perjured Eye , Joel Fineman argues that Shakespeare invented a new form of subjectivity and breaks away from the traditional form of epideictic poetry, the poetry of praise. Shakespeare writes sonnets about praise rather than to praise. The praise itself is objectified along with the object of praise. In the first 126 sonnets, the speaker is self-conscious about the nature and conditions of his praise. The praise in sonnets 127 through 152 is referred to as the "poetry of praise paradox." In these sonnets, , the speaker doubts whether the reader is worthy of praise or not. This self-awareness reflects the self-awareness that was characteristic of the Renaissance.
Sonnet 29 begins by describing the speaker's unfortunate public life. The first two quatrains express his loneliness and hopelessness over being an outcast. He compares himself to others who are more fortunate, and he envies them. In the third quatrain, the speaker shifts his focus to a forgotten aspect of his personal life and speaks of his beloved. Even though his public life is tragic, he is fortunate in his private life because of the wealth brought by the intended reader's "sweet love." In Themes and Variations in Shakespeare's Sonnets , J.B. Leishman points out the theme of compensation apparent here that comes up in a few of Shakespeare's sonnets. The speaker's contemplation of the intended reader serves as compensation for everything that he lacks.
Historical Context
The Middle Ages
After the fall of the western half of the Roman Empire, Christianity spread north of the Alps. There was both conflict and cooperation between the Papacy and monarchs. The Roman Catholic Church had tremendous influence over the lives of people because of its political and intellectual role. Medieval life was dominated by the Church, which was very wealthy and powerful. The influence of the Church can be seen in the intellectual ideas of the period, such as Thomas Aquinas's theology. Religious themes dominated the arts.
During this time, feudalism developed and was the system used to maintain political order. The structure, which allowed the upper classes to maintain their power, consisted of kings, lords, and peasants. The prevalent belief at the time was of the divine right of kings. Kings were given authority directly from God to rule their subjects in the same way that spiritual authority was given to the Church. In order to maintain power, kings gave certain privileges to lords in exchange for loyalty and service. Lords would receive land, called a fief. Both the noble class and the Church demanded a lot of the peasants. The Church had to pay the lords to use their land, and the peasants were exploited for the labor and felt obligated to give part of their earnings to the Church in hopes of a better after-life.
Even though this time period was referred to as the "Dark Ages" by Petrarch, there were actually some significant developments during this era. Today we distinguish between the Dark Ages and the Middle Ages, the Dark Ages referring to the time period from the 3 rd to around the 11 th and 12 th centuries and the Middle Ages from the end of the Dark Ages until the Renaissance. The Silk Road was reopened when the Mongols held power in China, allowing for an exchange of goods and ideas between Asia and Europe. Chinese inventions, like the compass, gunpowder, and printing, were accessible to people in Europe. The idea of habeas corpus, a prisoner's right to challenge the reason for imprisonment, was conceptualized in England during the Middle Ages.
The bubonic plague spread from Asia to Europe, having a significant impact on feudalism. The bubonic plague, also knows as the Black Death, spread in the mid 1300s. Europe's population severely declined. There were peasant revolts due to decreased wages despite increased workloads resulting from the smaller population. When landowners died, peasants would often take over the land. This led to the peasants having more power, and led to the decline of feudalism.
Students will not study poetry from the Middle Ages, but they will read poetry from the Renaissance and understand why those poems do not reflect the Middle Ages. This will strengthen students' understanding of the time period and their ability to closely read poetry.
The Renaissance
Florence was important during the early stages of the Renaissance. At this time, more wealth came into the hands of merchants and bankers, resulting in more people wanting to enjoy their wealth and live for themselves. Even though life was saturated by religion, it was not the most important thing. Secularism was rising. Also the Medici family, one of the wealthiest families in Europe during that time, held much political power in Florence. The family encouraged the spread of Humanism and the arts. The Renaissance spread to other parts of Europe owing to trade and an exchange of ideas made possible by the printing press.
The Renaissance was characterized by a renewed interest in classical studies, which resulted in a revival of Humanism. During the Middle Ages, scholasticism was the method of learning. Scholasticism was based on reasoning, natural law, and theology. This changed during the Renaissance when scholasticism was replaced by Humanism. Humanism involved the study of poetry, rhetoric, and history, studies cultivated with the hope of making people better citizens.
During this time, there were many advances made in literature, art, science, and mathematics. The invention of the printing press facilitated these advances because ideas could be disseminated more widely and quickly. The medical field advanced as a result of this information being spread in conjunction with Gabriel Harvey's discovery of the circulation of blood and detailed drawings of the human body, such as those created by Leonardo da Vinci. Despite the taboo on human dissection, Vesalius secretly dissected humans and wrote books leading to a better understanding of anatomy.
Since so much of this unit focuses on Shakespeare's sonnets, I will spend some time focusing on the historical context in England during his time. Queen Elizabeth I reigned from 1558 to 1603. The Church of England was established, and the country was rising as a commercial power. Shakespeare lived in London, which was a commercial and cultural center. Because of their increased prosperity, people had more money to spend on the arts. Theater became popular and was accompanied by secular music and dance. The plays needed to be approved by a censor who was appointed by Queen Elizabeth. Shakespeare's work reflects the time in part through its use of rhetoric, such as irony and hyperbole.
Audio-visual recordings of poetry
Having students listen to a recording or watch a video of a poetry reading will engage them and provide access to the course content for struggling students. While students listen or watch, they should always be urged to keep their minds focused on a task. Students should be provided with a copy of the text. Some examples of listening tasks include underlining words that the poet emphasized, identifying figurative language, or underlining words that suggest mood. This strategy will help students understand how a poem is meant to be read. This strategy would work well to introduce the Maya Angelou and Gary Soto poems. Students can listen and note examples of imagery and figurative language on their copies of the poems.
Preview and Predict
This is a pre-reading strategy designed as an anticipatory exercise before reading a poem or selection from the textbook. Students will be paired off, and each student will receive a line from the poem or textbook selection. Students will read their individual lines and work as a pair to make a prediction about the poem. The pairs will then share their predictions with the entire class. The predictions will be posted in the classroom. After reading the poem or selection, students will compare their predictions with the text once they've read it. This strategy will be especially useful before reading the sonnet. Students might have difficulty approaching the whole poem, and this task of focusing on one line and sharing with the whole group will serve as a way to scaffold.
Venn Diagram
A Venn Diagram is a tool to help students compare and contrast information. Students learn better if they can make connections, and I often ask them to compare and contrast concepts to deepen their understanding. Venn Diagrams can also serve as a tool to organize thoughts before completing a writing exercise. At such points the diagram can be used to have students elaborate on the similarities and differences between two pieces of writing, time periods, or characters. As students compare and contrast the Renaissance and Middle Ages, the Venn Diagram will help them organize their thoughts.
Two Column Notes
This is a system of note-taking that allows students to organize information by keeping main ideas and headings on the left and details on the right. Students summarize at the bottom of the page the information they gained from the notes. As students read from their textbooks, this strategy will help them organize and summarize information. These notes will also serve as a tool to help them study and review information.
Structured Discussions of Key Terms
Students need meaningful ways to practice new vocabulary words. Flashcards and memorization might give them some familiarity, but in order to truly internalize a word and understand how to use it, students need practice. Structured discussions provide scaffolding and context for students to use new vocabulary words. Students are first provided direct definitions. They are then given examples and practice with the teacher, paying close attention to the part of speech and syntax. Then they are given sentence frames with meaningful context through which they can practice using the words. Structured discussions can help students talk about poems in a meaningful way. Students will be given a protocol including questions and sentence frames containing vocabulary that they need to internalize to show their mastery of the content.
A cloze passage is a selection in which certain words are omitted. Students need to carefully read the passage and use context clues to determine which words should go in the blank. This strategy can be modified to provide clues for students who need them by giving them a word bank. A cloze passage is an effective way to monitor comprehension and challenge students to read carefully and critically. This strategy is useful to help students read closely as they will need to demonstrate a certain level of understanding to fill in the blanks. The blanks can also be strategically selected to target a particular skill. For example, when analyzing figurative language, words can be taken out of similes and metaphors to see if students can select words that are appropriate to the meaning and cultural context of the poems.
Character journals
Students are assigned a particular character (historical or fictional), and they write first-person journal entries from that character's point of view. Students are given specific journal prompts related to events or problems, and they write using as much detail as possible. After students are finished writing, they read these entries aloud. Since students are assigned different characters, the readings provide a rich sampling of different perspectives responding to the same topic. This strategy can help students understand characterization as they read poetry. For example, as students read Gary Soto's "Ode to Los Raspados," they can write journal entries from different points of view. Students may be assigned to write from the point of view of the speaker, her father, or another child waiting referred to in the poem. This strategy can also help students understand historical circumstance. They can be given a fictional prompt related to history. For instance, students might be assigned different characters such as a peasant, a lord, the king, etc., and write about one situation from these different points of view.
Gallery Walk
Students are divided into small groups, and in the room there are as many posters with questions on them as there are groups. The questions on the posters concern different aspects of a common reading assignment. For example, one poster might pose questions about characters while another addresses vocabulary and yet another asks students about historical context. Each group will receive a limited amount of time at each poster to respond to the questions. Once time is up, the group rotates to the next poster, reads what the group(s) prior to them wrote, and adds to or revises the answer on the poster. This strategy will work well to review a poem or concept from the textbook. Students should have spent a few lessons studying the topic, and the gallery walk serves as a tool to reinforce material through group work and whole class review.
Classroom Activities
The classroom activities described below are a chronological sampling from the unit that meet the specified objectives using some of the strategies listed above.
Sample Lesson 1:
Begin the lesson with a Do Now activity. Ask students to complete the following task: What is the difference between prose and poetry? Create a Venn Diagram to explore the similarities and differences. After students have a chance to explore their ideas, call on students to share and create a Venn Diagram that can be displayed on the wall during this unit.
Tell students that they will be studying poetry and history together in this unit to gain a deeper understanding of what they can learn about history through poetry. The first two poems they will study in this unit will not be related to the content in their history books, but will serve as an example of how to extrapolate historical and cultural context through poems.
At this point in the year, students will already be familiar with figurative language. Take some time to quickly review these concepts. Distribute copies of Maya Angelou's poem "Still I Rise" and tell students that they will be watching a video of Angelou expressing this poem. As students watch, they should pay attention to how punctuation is used differently in poetry than prose and complete the graphic organizer below.
Ask students to share what they noticed about the role of punctuation in this poem. Have a few volunteers practice reading this poem to the class. Then ask them to share their responses on the graphic organizers. Engage students in a discussion about the choices Maya Angelou makes when writing similes and metaphors. Why does she select those comparisons over others? What is revealed about the historical and cultural context?
Teach students the terms speaker and author, making sure that they understand that the speaker and author are not necessarily the same person. Distribute copies of a short biography of Maya Angelou. Ask students to read the biography with a partner and write a paragraph responding to the prompt, Is Maya Angelou the speaker of the poem "Still I Rise?" Justify your answer. Select a few students to share responses.
Close the lesson by viewing the video once again, this time asking students to add to their graphic organizers. As a homework assignment, students should complete the following worksheet to review the material covered in class.
1.I read the poem _________________ by __________________.
2.The difference between the speaker and author is ____________________________________________________.
3.I believe the speaker of this poem is _____________________ because __________________________________________________.
4.I can make the following inferences about the historical and cultural context (provide the line numbers that helped you make each inference):
5.Paraphrase the poem.
Sample Lesson 2:
This lesson takes place after students have had a chance to read both the Maya Angelou and Gary Soto poems. This is an introduction to the Shakespearean sonnet. By the end of this lesson, students should be able to understand the structure of a sonnet and make some inferences about the historical and cultural context of Sonnet 29.
Begin the lesson by asking students to do a quick write about what they can learn about historical and cultural context by reading a poem. Give students about five minutes to gather their thoughts and ask a few students to share. Students should refer to the inferences made after reading the Angelou and Soto poems.
Tell students that they will begin reading a poem that was written during the historical period they will study next. Put students in pairs to complete a preview and predict activity. Give each student a line from Sonnet 29. Since there are only fourteen lines, there will be repeats, but that will be fine to have more than one pair make inferences based on the same lines. Have each student read the line to his or her partner. Ask students to respond to the following questions: What did you notice about the lines? What do you predict the entire poem will be about?
After students have shared with their partners, ask each pair to read the lines as well as their predictions to the class. Chart the predictions so students may check them later. Make sure that students justify their predictions so that they are closely reading and basing their responses on the text.
Next, tell students that the type of poem they are about to read is a sonnet. Teach students the basic structure of a Shakespearean sonnet so that they understand the rhyming pattern and couplet. Show them an example of another sonnet pointing out the structural features.
Give each pair a set of all fourteen lines cut out from Sonnet 29. Give them the challenge of putting the lines together in order according to the structure of a sonnet. After giving pairs some time to work on this, solicit student help and reconstruct the sonnet using large strips for the whole class to see. Allow students to make mistakes as they offer help, making the self-correct by referring back to the structure of the sonnet and /or logic.
Once the sonnet has been reconstructed, tell students that they will go back to the process of making inferences now that they have the entire poem in front of them. Ask students to complete the first two columns of the following graphic organizer as they read Sonnet 29. Ask students to hold on to this organizer as they will refer to it in a future lesson.
Sample Lesson 3:
In this lesson, students will learn about the Renaissance and make connections between historical context and poetry. Students will read about the Renaissance in their history textbooks and take notes using Two Column Notes.
Begin the lesson by asking students to review what they learned about the Middle Ages. Ask students to make a list of some characteristics of the Middle Ages. Have students share and chart their responses on the board. Tell students that they will learn about the Renaissance, which is the time period during which Sonnet 29 was written. Have students read and complete notes using a structure like the one I have included below.
When students finish taking notes, ask them to take out the graphic organizers on which they recorded their inferences. Tell students to complete the third column, which asks them to check the inferences they made about the historical period they read about.
Sample Lesson 4:
This lesson will give students the opportunity to think more deeply about the relationship between history and poetry. In the lessons between the one outlined above and this one, students will study the causes and effects of the Renaissance. In this lesson, they will compare and contrast the Renaissance and Middle Ages.
Begin the lesson by having students complete a Venn Diagram comparing and contrasting the Middle Ages and Renaissance. Chart responses on a large Venn Diagram for the whole class to see.
After reviewing the Venn Diagram, put students in groups of 5 and have them complete a gallery walk. The gallery walk should consist of 6 large posters with questions posted and room for students to write responses. Each group will receive five minutes to respond to each poster. Students will rotate, answering questions that the previous group(s) did not have time to address and commenting on the responses already given. Each group should be given a different colored writing utensil in order to make sure that they respond to each poster. Two posters should be about each of the time periods. Another poster should be a response to poetry. For the next two posters, students should be given poems they have not seen before and answer questions about the speaker, intended reader, and historical circumstance. The last two posters should refer to content vocabulary, asking students to elaborate and give examples of words covered in the text.
As a homework assignment leading into the next lesson, students should create an outline for a compare and contrast essay.
Sample Lesson 5:
Students will demonstrate their understanding by writing original sonnets written from the perspective of an assigned speaker. They will address a specific reader using appropriate figurative language and references. In order to prepare for this assignment, students will need to do some prewriting exercises, such as character journals, to understand the characterization of each speaker. In this lesson, students will use their prewriting exercises to write original sonnets.
Begin the class by asking students to review the structure of a sonnet. Tell students that they will use their character journals to help them write original sonnets. Please refer to the Strategies section above for more details about the character journals. Students should think of an intended reader and write a poem expressing something to that reader. The following handout can help students organize their thoughts before writing the poem.
The speaker of my poem is…
The intended reader is…
This is how the historical context affects my speaker…
The message my speaker will express is…
Some imagery that is historically relevant and can help me communicate my message includes…
After students organize their thoughts, they can start writing sonnets. Some students will need significantly more time than others. As students finish, they can peer revise, checking for accuracy in terms of form and content.
To conclude the unit, organize a poetry reading and have students perform their sonnets.
Blades, John. Shakespeare: The Sonnets . Basingstoke [u.a.: Palgrave Macmillan, 2007.
Booth, Stephen. An Essay on Shakespeare's Sonnets . New Haven: Yale University Press, 1969.
Fineman, Joel. Shakespeare's Perjured Eye: The Invention of Poetic Subjectivity in the Sonnets . Berkeley: University of California Press, 1986.
Leishman, J. B.. Themes and Variations in Shakespeare's Sonnets . London: Hutchinson, 1961.
Shakespeare, William, Edward Hubler, Northrop Frye, Leslie A. Fiedler, Stephen Spender, R. P. Blackmur, and Oscar Wilde. The Riddle of Shakespeare's Sonnets. London: Routledge & Kegan Paul, 1962.
Weiser, David K.. Mind in Character: Shakespeare's Speaker in the Sonnets . Columbia: University of Missouri Press, 1987.
The following California standards for 7 th grade are covered in this unit:
English Language Arts
Reading 1.1 Identify idioms, analogies, metaphors, and similes in prose and poetry
Reading 1.3 Clarify word meaning through the use of definition, example, restatement, or contrast
Reading 2.3 Analyze text which uses cause and effect patterns
Reading 3.3 Analyze characterization as delineated through a character's thoughts, words, speech patterns, and actions; the narrator's description; and what other characters think, say, and do
Writing 2.2 Write responses to literature that develop interpretations which exhibit careful reading, understanding, and insight; and organize interpretations around several clear ideas, premises, or images; and justify interpretations through sustained use of examples and textual evidence
Social Studies
7.6Students analyze the geographic, political, economic, religious, and social structures of the civilizations of Medieval Europe.
2.Describe the spread of Christianity north of the Alps and the roles played by the early church and by monasteries in its diffusion after the fall of the western half of the Roman Empire.
3.Understand the development of feudalism, its role in the medieval European economy, the way in which it was influenced by physical geography, and how feudal relationships provided the foundation of political order.
7.Map the spread of the bubonic plague from Central Asia to China, the Middle East, and Europe and describe its impact on global population.
8.Understand the importance of the Catholic church as a political, intellectual, and aesthetic institution
7.8 Students analyze the origins, accomplishments, and geographic diffusion of the Renaissance.
1.Describe the way in which the revival of classical learning and the arts fostered a new interest in humanism (i.e., a balance between intellect and religious faith).
2.Explain the importance of Florence in the early stages of the Renaissance and the growth of independent trading cities (e.g., Venice), with emphasis on the cities' impor tance in the spread of Renaissance ideas.
3.Understand the effects of the reopening of the ancient "Silk Road" between Europe and China, including Marco Polo's travels and the location of his routes.
4.Describe the growth and effects of new ways of disseminating information (e.g., the ability to manufacture paper, translation of the Bible into the vernacular, printing).
5.Detail advances made in literature, the arts, science, mathematics, cartography, engi neering, and the understanding of human anatomy and astronomy (e.g., by Dante Alighieri, Leonardo da Vinci, Michelangelo di Buonarroti Simoni, Johann Gutenberg, William Shakespeare).
Comments (0)
Be the first person to comment
Let's Connect
U.S. History
Government & Civics
Global Issues
Student Council & Leadership
Everything Else
Student Council & Leadership

Poetry is a great way to explore the sentiments and issues of a particular era, but as a history teacher it can be hard to know where to start! Not only can poems be intimidating to students and teachers alike, but studying a poem as a piece of history is different than studying it as a piece of literature.
That's why the analysis strategy used by the English teacher down the hall doesn't quite work for your learning objectives in U.S. History! Metaphors are fantastic elements of written expression, but your focus is different. Instead, you need students to analyze a poem as a historical primary source, one that adds richness by using artistic, emotional, and creative elements, and acting as a great contrast to the presidential speech they'll be examining the following day.
It took several tries to perfect the strategy I use to incorporate poems into my units, as well as settle on the best ones to use, and now that I have found a formula that works I want to share both with you!
Here are my best tips for how you can effectively teach poetry in your middle or high school U.S. History classroom, and a list of poems that are perfect to use!
Plus, scroll down to the bottom to download a FREE print-and-go analysis lesson of my most favorite one—Emma Lazarus's famous work, "The New Colossus." Or, click the button below to go straight this lesson download!
But before you dive into the DECODE process, you need to set yourself up for poetry success:
1. Pick the right poems
Not all the greats of American poetry qualify. Poems that have clear connections to larger historical issues are the ones you want.
They need to be relatively short and straightforward, so that your classroom dialogue can immediately focus on the author's historical references and perspectives, and not get sidetracked by comprehension challenges.
Also, be open to works that don't fit the standard definition of a poem. Try out some poem-like creative essays or song lyrics.
Scroll down to check out the list of 11 works fitting this description that I've curated for you!
2. Leave lots of white space.
This is why a brief poem or just a few stanzas works so well. Poetry can already be intimidating for a lot of students, so a whole bunch of it crammed on a page isn't going to help the situation. When printing your poem handouts, be sure to leave plenty of room for note taking and analysis.
3. Arm them with both highlighters and pencils.
Decide what is the most important thing (or two) you want students to be looking for as the poem relates to the historical topic. Maybe it's the author's real life personal experience; maybe it's a comparison he or she is trying to make. Have students color-code for that so it doesn't get lost among the rest of the annotations they make on their paper.
4. Identify the academic words ahead of time.
Pre-bold them on your handout. Define them as a class before the first read. Have your students verbally repeat any ones that are tricky to pronounce so that whoever is reading that line aloud (always, always read poems aloud!) will be equipped to do so successfully.
5. Give lots of context.
Introduce the author, his or her background, and point of view. Make it no surprise the angle he or she is going to take with the topic they are referencing before the poem is read. Poetry for historical sake shouldn't be a guessing game of what the poet is discussing, but rather a dive into their perspectives, insights, or influences on the topic.
Now this doesn't mean you've done all the thinking for your students. My favorite way to preface any primary source is with a leading question that follows this general formula: "Based on what you now know about this author, how do you think she/she felt?" or "Looking at the title he/she chose and thinking about their background, what do you think his/her perspective on this issue is?"
This allows your students to infer the poem's punch line instead of you giving it away. Then, they are empowered when their educated guess is proven right!
Now you're ready to use the DECODE strategy!
This has become my go-to for everything poetry in my history classroom. I love that the acronym references "cracking the code" of poetry to even further help demystify this rich type of primary source! Here's how it works:
Read the poem aloud either entirely yourself or at least the first stanza or two before handing it off to the students to read aloud.
Define: Even after you have defined certain words prior to the first reading, give students the time to identify any other words they individually need to clarify.
Read the poem a second time, either aloud by a new student, or have them read it silently, depending on its length, looking specifically for emotion.
Emotion: Help students label the emotion of specific stanzas or of the whole poem. More often than not, the emotion in a poem shifts, so really look at each stanza individually.
Read the poem a third time, now looking for any changes or comparisons happening. This requires looking at the poem now as a whole work. Every single poem has some sort of change and continuity or makes a comparison or contrast. That's what makes poetry powerful. Usually a poem has a few.
Change / Continuity / Contrast / Compare: Examine the stanzas now in how they fit into the poem as a whole to create its larger, thoughtful message.
Outside Information: When previewing the author's backstory and the larger historical issue, before reading the poem with students, simmer it all down into three key pieces of information for them to reference back to when analyzing. That way students can now reference back and make those connections.
Read the poem a fourth time, likely now as a quick skim, looking for distinct or powerful words.
Denotation / Connotation: Help students identify specific words or phrases that the author intentionally chose over others for the meaning they created. Whether it was because they created a crystal clear image or because they hold an extra or double meaning, the author chose each one on purpose. Encourage your students to make conclusions as to why he/she chose the words they did.
Encapsulate: Culminate the poem's meaning and impact on the historical era into a single sentence. It helps to give your students a sentence stem to get them going. For example, "After President Lincoln was shockingly assassinated, Walt Whitman processed his and the nation's grief by…"
Here are the poems that have made it onto my go-to list. Don't feel like you need to use all of them! I certainly don't in any given school year. If you are brand new to using poetry or want to see this strategy in action, I encourage you to sign up for access to my digital library of free resources, which includes a complete lesson that DECODEs Emma Lazarus's "The New Colossus."
11 Poems Perfect for Your U.S. History Students
"Paul Revere's Ride" by Henry Wadsworth Longfellow
"Defence of Fort M'Henry" (which later is designated as the "The Star Spangled Banner") by Francis Scott Key
"I Hear America Singing" by Walt Whitman
"O Captain! My Captain!" by Walt Whitman
"The New Colossus" by Emma Lazarus
"This Land Is Your Land" by Woody Guthrie
"I, Too" by Langston Hughes (which is his direct response to Whitman's "I Hear America Singing")
"Will V-Day Be Me-Day Too?" by Langston Hughes
"Theme for English B" by Langston Hughes
"Still I Rise" by Maya Angelou
"A Letter to My Mother That She Will Never Read" by Ocean Vuong (this work is structured more like an essay, but still contains strong poetic elements)
I hope these ideas and tips help you bring poetry into your U.S. History class!
Click below for FREE download!
Click below to get a complete print-and-go lesson plan that DECODE's EmmaLazarus's "The New Colossus."
Feature image photo credit: Nick Hillier
5 Steps to Teaching U.S. Geography Using Brain Science

Related Posts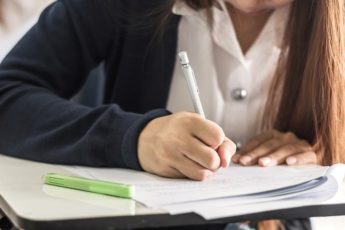 Deconstructing Essay Questions in 4 Simple Steps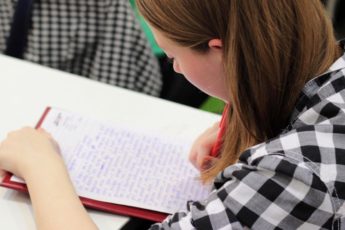 How to Scaffold Social Studies Essay Writing Like a Pro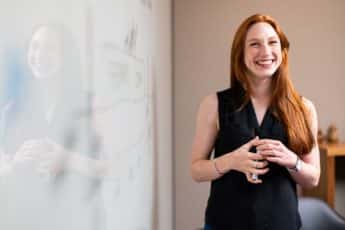 How to Create Inquiry-Based Learning in Social Studies
Top of page
Using Poetry to React to Historical Events and Causes
12 November, 2020
Posted by: Peter Armenti
Share this post:
The following guest post, part of our "Teacher's Corner" series, is by Rebecca Newland, a Fairfax County Public Schools Librarian and former Teacher in Residence at the Library of Congress.
Choose one or more of the poems suggested below or other poems that address events in history. Consider recording the poems to allow students to listen more than once. To foster collaboration, reach out to a theater teacher or drama club to find students who can record the poems. Provide students the text of the poems you have chosen. As part of the activity:
Encourage students to interact with each poem by listening and reading more than once.
Provide a model poem for which you have noted the use of poetic language and other poetic elements in reference to the event. Ask students to do the same with the poems under consideration.
Offer opportunities for discussion in small groups or via a quick-write.
How does the speaker feel about the event or cause? What makes you say that?
What elements of a poem (i.e., language and structure) has the writer used to convey their thoughts?
To extend the lesson, ask students to think about an event or cause in their lifetimes, or one they have learned about in school or on their own that they feel warrants a poem. Students can begin their poetry-writing process by brainstorming words or phrases that reflect the feelings evoked when they consider the event or cause. Once students have written a poem about their chosen event, invite volunteers to read their poems to the class.
POEMS ON SELECTED HISTORICAL TOPICS
The Assassination of President Lincoln
Both Walt Whitman's " When Lilacs Last in the Dooryard Bloom'd " and the anonymous lyrics to " The Nation Mourns ," published by Charles Magnus, are reactions to the death of Abraham Lincoln at the hand of John Wilkes Booth.
The Movement to End Child Labor in the United States
Many felt that using children for labor in the United States was wrong because children should be in school and jobs should be reserved for adults who did not have other employment. These two poems come from the Library of Congress's National Child Labor Committee Collection :
The Fight for Women's Suffrage in the United States
The fight for women's right to vote in the United States is said to have begun at the Seneca Falls Convention in July of 1848. Women gained the right to vote across the nation with the ratification of the 19 th Amendment to the Constitution in 1920. The poems below represent both pro and anti-suffrage attitudes:
" Votes for Women "
" The Marching Song "
" Let Her Come "
U.S. Civil War – " Let Us Have Peace, U.S. Grant "
World War I – " A Christmas Prayer of Wartime "
World War II – " The Young and Dead Soldiers Do Not Speak "
The Attacks of September 11, 2001
" WTC 010911 9:15 AM "
" Everyone was cool, everyone was chillin' "
" Halloween 2001 " ( poem record )
See All Comments
Add a Comment Cancel reply
This blog is governed by the general rules of respectful civil discourse. You are fully responsible for everything that you post. The content of all comments is released into the public domain unless clearly stated otherwise. The Library of Congress does not control the content posted. Nevertheless, the Library of Congress may monitor any user-generated content as it chooses and reserves the right to remove content for any reason whatever, without consent. Gratuitous links to sites are viewed as spam and may result in removed comments. We further reserve the right, in our sole discretion, to remove a user's privilege to post content on the Library site. Read our Comment and Posting Policy .
Required fields are indicated with an * asterisk.
Skip Navigation
Request Family Testimony Copy
OUR SITES --> OUR SITES USC Shoah Foundation IWitness Visual History Archive Request Permission for Use
Powerful Poetry: Three Activities to Help Students Connect with History
By: Stacey Pearlman
This month – National Poetry Month in the U.S. – is a great time to explore just how powerful words can be.  When it comes to understanding difficult moments in history, poetry and writing can help students process and express their own thoughts about the world. Explore these three ways you can bring poetry into your classroom using tools from Facing History's partner, USC Shoah Foundation – The Institute for Visual History and Education.
1. Watch:  Use testimony to explore how survivors of genocide and mass violence turned to poetry during their darkest times. USC Shoah Foundation's educational platform, IWitness helps educators access more than 1,500 video testimonies of survivors and witnesses to the Holocaust and other genocides. In the excerpt below, Itka Zygmuntowicz recites the poem she mentally composed while she was in Auschwitz and how the act of composing the poem gave her hope for eventual survival and freedom.
Itka Zygmuntowicz recites a poem she wrote abou her experience during the Holocaust. She says Hitler could never take away her creativity or her dream to be a writer. April is National Poetry Month.
2. Think: Using the Writing in Exile activity, challenge your students to sharpen their literary analysis, writing and listening, and communication skills. Through this video-building exercise, students will examine the poetry of Lotte Kramer, a German Jew who was placed on the Kindertransport in 1939. Her writing addresses universal themes of family, identity, and memory while touching upon what it means to be in exile.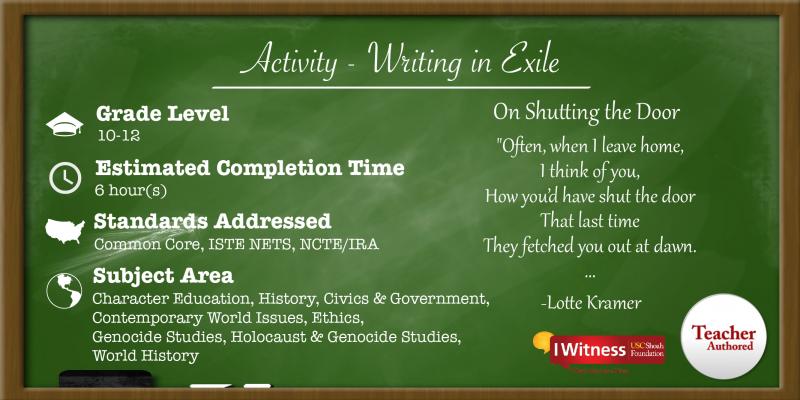 Originally Published on Facing History and Ourselves Blog
Written By Stacey Perlman
Like this article? Get our e-newsletter.
Sign up today!
Be the first to learn about new articles and personal stories like the one you've just read.