5 Proven Letter Writing Activities to Boost Your Lessons
I have 5 Proven Letter Writing Activities that boost student engagement and hit the mark with second and third-grade writing standards!
Are you an elementary teacher who wants to teach your students letter writing skills through engaging activities that will promote the love of writing? Yes, producing students that write letters on their own!
The Background
I've taught second through fourth grades for the last twenty-some years. Throughout this time, I've enjoyed teaching writing the most. So I'm constantly looking for creative ways to foster the love of writing within my students.
I'm sure you feel the same way if you're reading this post.
Something I've learned throughout this time is that students have a voice and want to use it. They need a little support and encouragement in using their writing voice. But once they have it, there's no limit!
Yes, that's teacher heaven right there. Every Teacher Everywhere
One way I support and encourage student writing is through Friendly Letter Writing Activities. The following activities are a mixture of whole-class instruction, small group collaboration, and peer discussions.
The activities will skyrocket your student's desire to write in no time at all.
The search is over. Here's a new and creative way to boost your writing lessons with an old-school tradition.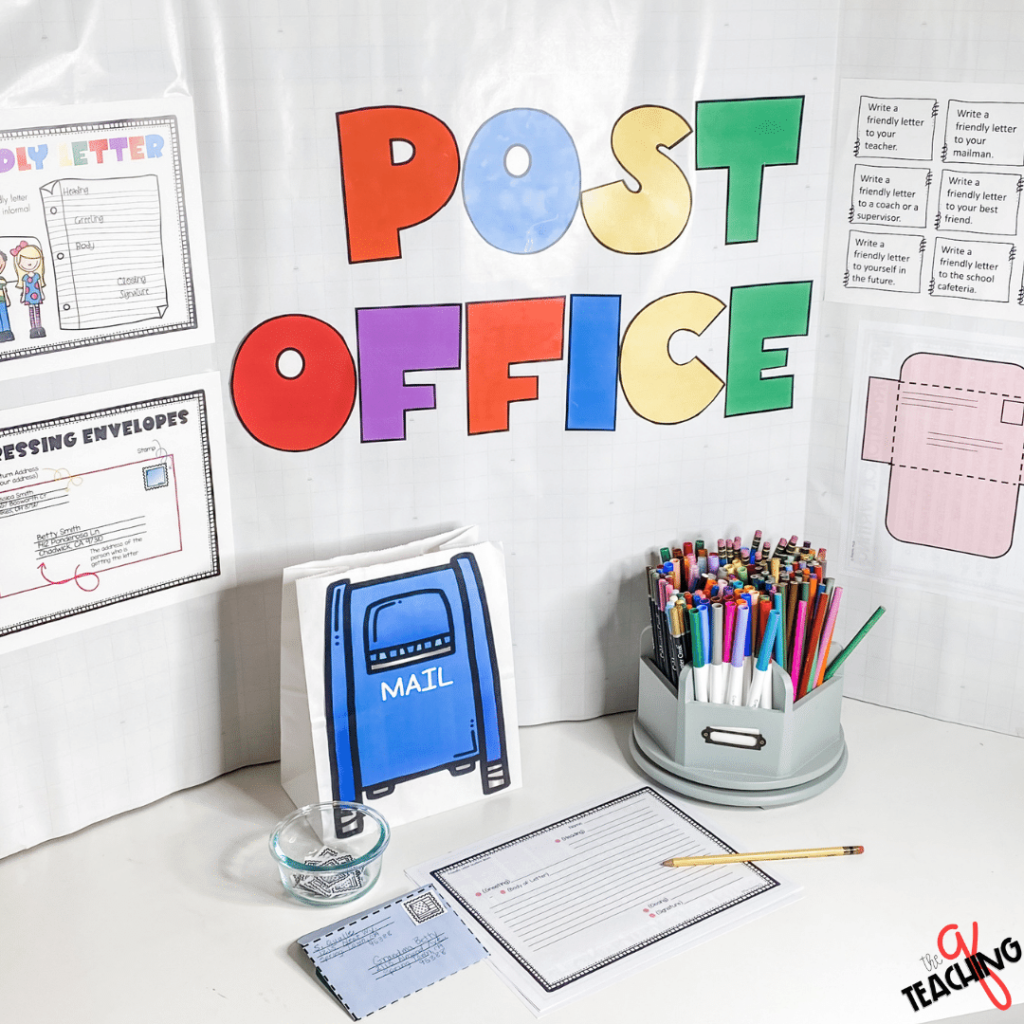 Friendly Letter Writing Workspace
Before introducing any of the Letter Writing Activities, I set the stage. It's just a little touch of anticipation that motivates students to participate in writing instruction.
I also suggest setting up a Letter Writing Center with all the bells and whistles. I include a mailbox, stationary, stamps, envelopes, letter writing anchor charts, and graphic organizers.
Next to the Letter Writing Center are the Letter Writing Read-Aloud Books. I suggest keeping the books close by to offer inspiration when needed.
I look at the Letter Writing Center as the second and third-grade version of the kindergarten playhouse. Don't you think older kids need a creative space as well? I sure do!
The Student Hook for FREE!
You can check out my FREE Letter Writing Post Office here . After signing up, you'll have all the materials needed to excite your students and then maintain their enthusiasm for letter writing.
Then, introduce the activity with regular routines and expectations of the Writing Post Office. I hope the first and most crucial expectation will be to use it!
Yes, that expectation is just a sneaky way to get the students in front of the anchor charts, writing rubric, and checklist needed to support excellent writing.
Now, if you're a bit "extra," you may even use the FREE Letter Writing Post Office and create individual desk-sized Post Offices!
Whole-Class Letter Writing Activities
To truly improve student writing, there must be an element of direct instruction.
The necessary lessons on writing structures, using your voice, and so much more are essential.
For me, this is a time for whole-class instruction before the students even begin to write.
My whole must-have class activities are note-taking, peer discussions, and color-coding the text.
Note-taking on Letter Writing Features
Next, I provide the necessary background information on friendly letter writing, the students take brief notes in a straightforward graphic organizer. The notes then become a source of reference to support their letter writing in action.
Pre-Writing Peer Discussions
So, I encouraged students to discuss their learning with peers. The more discussion opportunities, the better the writing.
Mind-blowing, right?
As you teach the Friendly Letter Writing Unit, students are provided with small chunk-sized mini-lessons, each with several peer discussion opportunities.
The peer discussions allow students to verbalize their thoughts. Students then gain perspectives of others, receive feedback, and adjust previous thinking.
All of which leads to stronger writing.
An example of peer discussions is discussing the topic of a letter with a peer before committing to the writing.
Students share and build upon each other's ideas. All topics are thought out, supported, and explained before starting to write.
Once the student takes the discussion to write, the overall outcome is much more developed.
It's like giving students a "practice" round before putting in the extra effort to develop the writing.
I had a friend once say, "always take it to the writing stage."
"Talk it out before you write it out." M. Qualle
Color-Coding the Text Activity
Finally, my favorite whole-class pre-writing activity is Color-Coding the Text. If you're not familiar with this, here are the basics.
First, you provide a mentor text to read together. Then as a class, and eventually independently, the students highlight each feature of Letter Writing structure with a different color.
Students love this pre-writing activity because (you know), well, highlighters, of course!
In our situation, Friendly Letter Writing Activities, the students highlight the heading in purple, the greeting in green, the body in yellow, the closing in red, and finally, the signature in blue.
Yes, the students have engaged, plus the finished product is so easy for you to scan for check for understanding quickly.
Can you say, a total win-win?!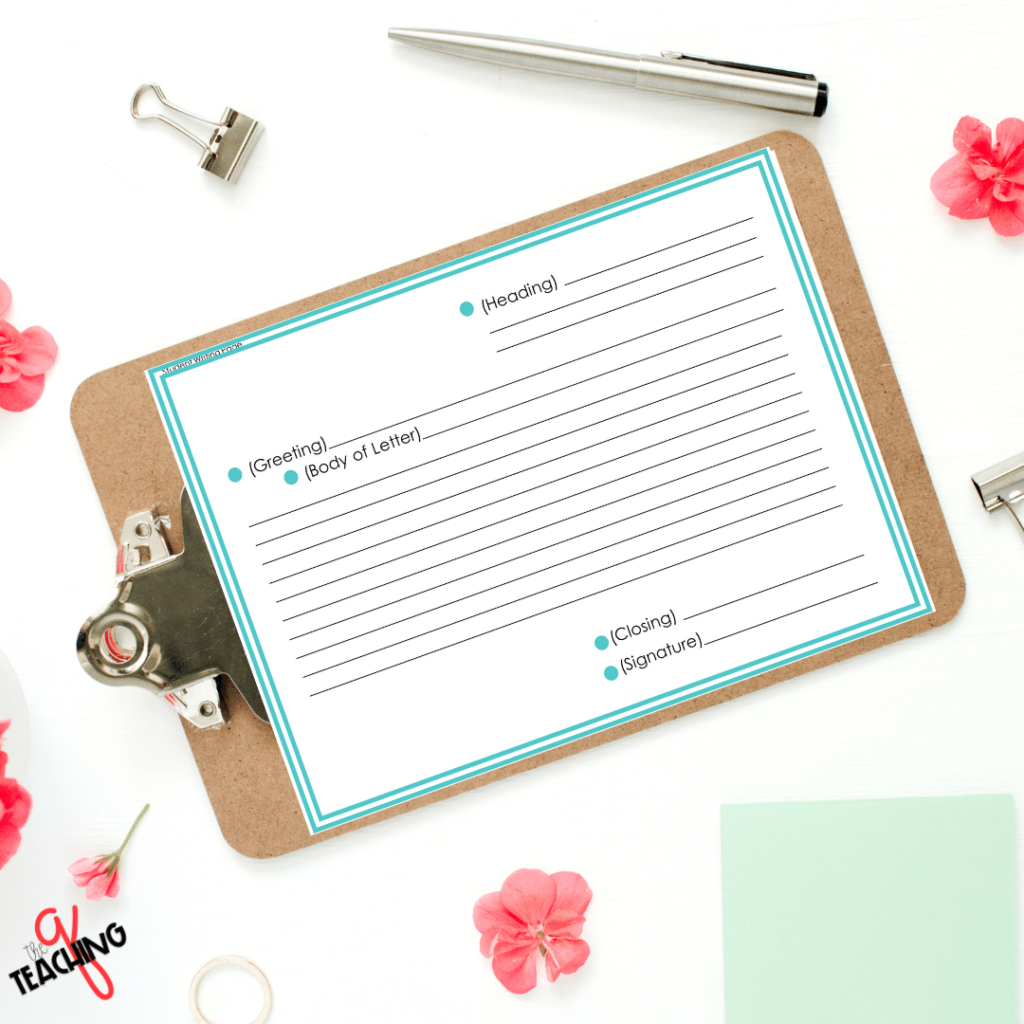 Letter Writing Practice Worksheet
In my opinion, there's one single Lette worksheet that must be present for students to be successful. That's the graphic organizer.
You can pick up your FREE letter writing graphic organizer found within the Letter Writing Post Office Kit .
The graphic organizer worksheet is the single most crucial worksheet in the letter writing unit.
Students will need to have the letter-writing structure down to pat to write letters independently. So I believe in scaffolding the graphic organizer.
Plus, I use the graphic organizer at the beginning with heavy support. Over time, I slowly remove the scaffolds to encourage student independence.
As the students become more efficient with their letter writing skills, the graphic organizer has fewer supports. Eventually, students will not need the graphic organizer.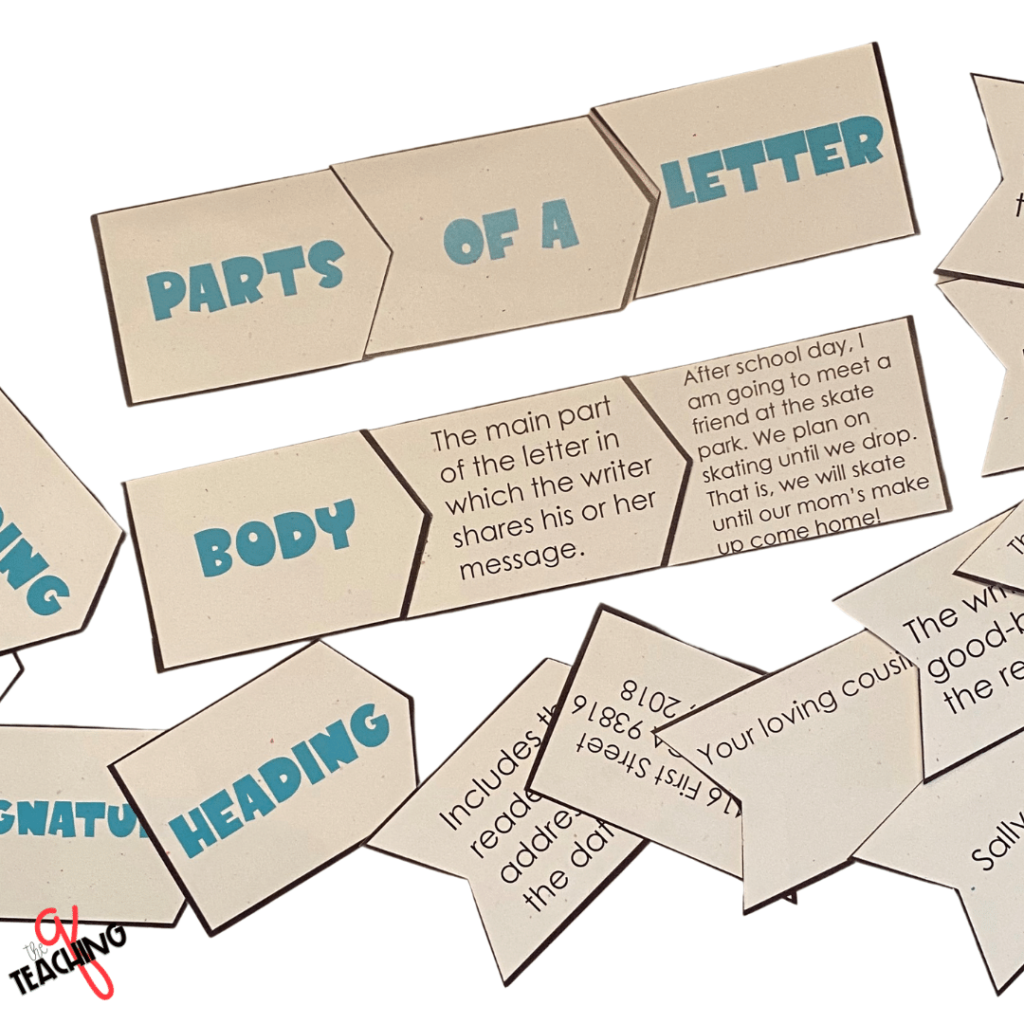 Letter Writing Activities for a Center
There are numerous fun and engaging Letter Writing Activities for your centers. In this post, I have two that are my go-to for Letter Writing Skills.
Letter Writing Match-Up Activity
Also, use the Letter Writing Match-Up Activity with pairs of students or with small groups. The goal of the writing activity is to match three puzzle pieces together.
Each set will be one feature of the Letter Writing Structure. Students will need to check the vocabulary term, the definition, and an example together.
Heading matches includes the reader address and date, which then matches with, 2416 First Street, Ceres, CA 95386
The beauty of this activity is that students need to check one another's work, which is more practice with the letter-writing structure.
Letter Writing Choice Board
The Letter Writing Choice Board is an array of 12 different letter writing prompts. I assign this activity in centers or as Early Finishers Work. With twelve writing prompts, students are busy writing.
I use the Choice Board throughout each month to save me time. (Fin!)
Another benefit of using the choice board is it gives students an actual choice!
Yes, we don't have to dictate everything! Who knew?
That's right, allowing students the choice in writing will definitely pay off in the quality of the student writing.
An interesting writing prompt equals quality writing.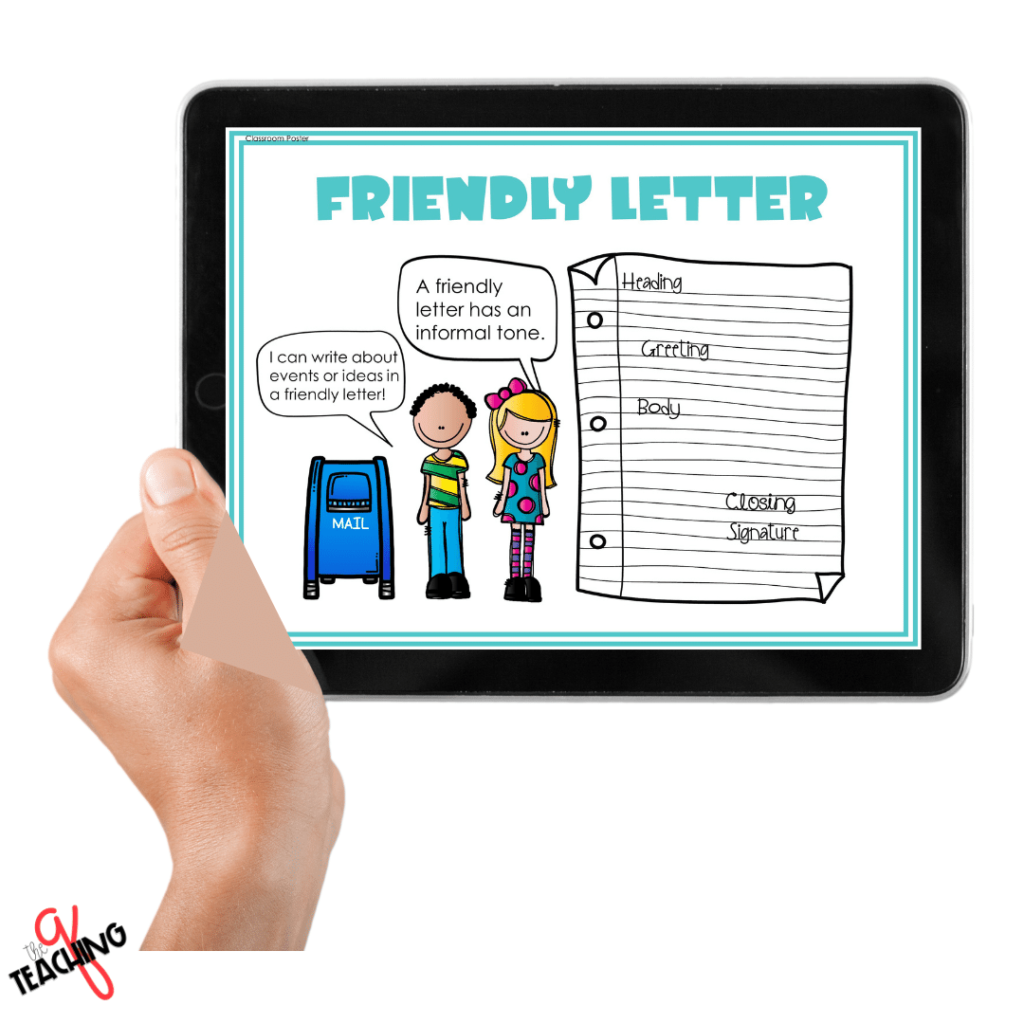 Digital Letter Writing Activities
However, Letter Writing Activities are not always pen-to-paper. Oh no, not in the world we live in today. We also have letter writing through email. With 3 million emails sent every second, teaching our young students the letter structure is essential.
Now, I still believe in students learning how the print and write in cursive. So I use a delicate balance of digital and printable resources. If you're like me and want both the digital and printable Friendly Letter Writing Unit , you can check it out here .
(Here's a little side note. Did you know you can print the slides in Google Slides? Use 8.5 X 11-inch slides.
Digital Activities
The most ideal Digital Letter Writing Activities found in my Friendly Letter Writing Unit are:
Note-Taking Activities
Peer Brainstorming
Graphic Organizers
Writing Checklists
Check for Understanding
Also, the listed digital activities are short and quick, which is usually not too overwhelming for young students who may not be proficient at typing yet. (Trust me, fast and simple will save you your sanity.)
In addition, I have a related post, How to Teach Friendly Letter Writing, with 3 Key Elements that you may want to check out.
There you have it. Five Letter Writing Activities to Boost your lessons now. Just like that, once you introduce letter writing using these activities, there's no stopping them. Letter Writing Activities will hook your students for life!
Also, I offer a course for teachers to transform their students' writing through letter-writing, called Elevate with Letter Writing. You can check out all the course goodness here .
Are your students struggling and making very little progress in writing? Or maybe they're unmotivated or a reluctant writer? If so, I've got your back.
Yes…I…Do!
Let me share my secret sauce when it comes to teaching writing to elementary students.
It's the Sentences, Paragraphs, and Essays: OH, MY! E-book.
Click this link to learn more about how the E-Book can transform your students' chicken scratch, hap-hazard writing into strong, effective, glorious writing!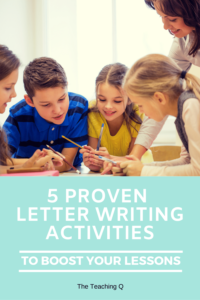 Hi, I'm Melissa!
I help elementary writing teachers motivate students through guided instructional resources that students love!
Together we will engage and support young writers in their writing journey.
Let's Connect!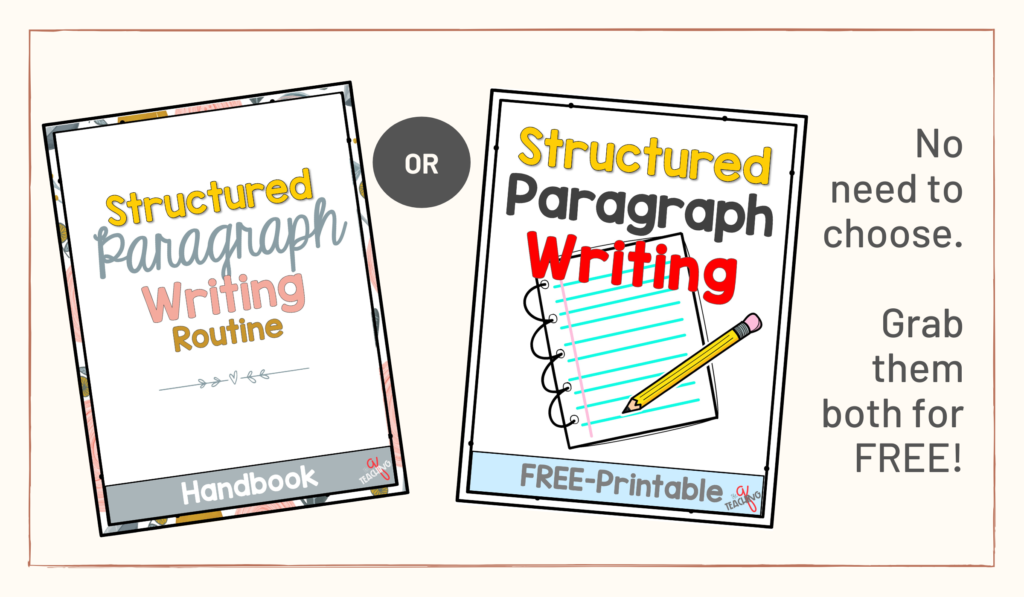 Get your free Resources here!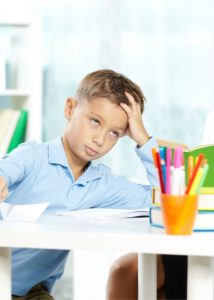 FREE Guide to Teaching Reluctant Writers
Join the email list and I'll send you a FREE guide to teaching reluctant writers. Plus, I have a FREE Writing Craft to get you started.
15 Friendly Letter Writing Prompts For Kids
Learning to write a friendly letter can be fun! Once students understand the format and basic parts of a friendly letter, the rest is open for creativity. The unique prompts listed below give students a chance to practice their letter writing skills in a creative and imaginative way!  Hopefully, this will make the learning process more engaging and memorable.
1. Write a letter your past self. Describe three things you wish you had known when you were younger.
2. Write a letter to yourself in ten years. State three things you want your future self to remember from the past. 
3. Write a letter to your pet (or a pet you had in the past). Tell your pet two things they do well and one thing they could improve. 
4. Write a letter to your city mayor. State a problem in your city, and ask them to help you fix it. 
5. Write a letter to your parents. Tell them about a big goal you want to achieve and how you are going to achieve it.
6. Write a letter to someone you admire. State at least two reasons why you admire that person and how their actions have changed your life.   
7. Write to the chef at your favorite restaurant. Describe your favorite dish, state two reasons why you like it, and one thing you would change.
8. Write a letter to a character in your favorite book or movie. Predict the future for that character. State two positive things and one negative thing that will happen in their future.
9. Write a thank-you letter to someone from history . Tell the person why you think they are important and how they made the world a better place. 
10. Write a letter to your teacher. Describe something you enjoyed learning about this year.
11. Write a letter to someone in another country. Describe something you like about your country and something about your country you wish would change.
12. Write a letter to a friend. Tell them three reasons why you appreciate their friendship.
Friendly Letter Writing Lesson For Elementary & Middle School   
13. Write a letter to an alien from another planet. Tell them three things they should know about Earth before they visit.
14. Write a letter to the school principal. Convince him or her to change a school rule. Give at least three reasons why the rule should change.
15. Write a letter to the owner of a local amusement park. Describe your idea for a new ride.
*Are you also teaching your students to write a business letter? Click here for 10 student-friendly business letter writing prompts.  
Sign Up Individual School
Letter-Writing Lessons & Tips
Letters take many forms and serve a variety of purposes. Give your students practice with the fine art of letter writing using one or more of the following activities. You'll find formatting tips and strategies for teaching your students the basics of different types of letter-writing (like persuasive, business, and friendly), and also plenty of lesson plans to put their newfound knowledge into practice. Letter Writing Week is celebrated in January.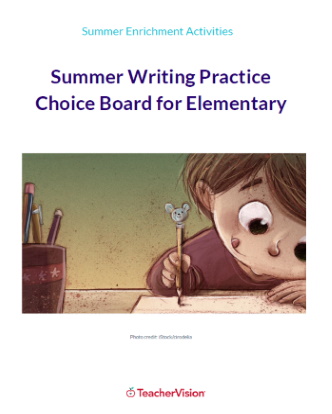 Organizing a Letter
Let's Write the Author
Persuasive Letter Graphic Organizer
Writing a Letter to Persuade (Gr. 1)
Writing a Persuasive Letter (Gr. 2)
Writing a Persuasive Letter (Gr. 3)
Formatting a Letter
Independent Letter-Writing Activities
A Letter to a Friendly Monster
The Parts of a Letter
Write a Cover Letter That Sells
Letter-Writing Activities
Write a Persuasive Letter
Katie Kazoo Classroom Crew Letters
Father's Day Letter
World War II: Letter to the President
First Year Letters Classroom Activities
More Letter-Writing Activities
Letter-Writing Rubrics
Scoring Rubric: Resume and Cover Letter
Scoring Rubric: Business Letter/Memo
Lesson Plans
Write a Letter to Jesse Owens
Write a Letter to the President
Benjamin Banneker's Letter
Letter for Great Mail Race
Sample Letter to Representatives
Abigail Adams Writes a Letter
Patricia Polacco, Author and Illustrator
Charlotte's Web Persuasive Letter
Letter to My Favorite Author
Questions About Your Future: Writing a Personal Letter
Letter Writing
Writing a Thank-You Letter

Arts & Music
English Language Arts
World Language
Social Studies - History
Holidays / Seasonal
Independent Work Packet
Easel by TPT
Google Apps
Interactive resources you can assign in your digital classroom from TPT.
Easel Activities
Easel Assessments
Unlock access to 4 million resources — at no cost to you — with a school-funded subscription..
letter writing lesson plan
All Formats
Resource types, all resource types, results for letter writing lesson plan.
Price (Ascending)
Most Recent
Formal Letter Writing Unit | Business Letters | Email | Distance Learning
Also included in:  Year Long Writing Bundle | All Text Structures | Fiction & Nonfiction 1140 Pages
Friendly Letter Writing Unit - Parts of a Friendly Letter Template Paper
Also included in:  1st Grade Writers Workshop Bundle | Personal Narrative, Opinion, Friendly Letter
Friendly Letter Template and Lesson Plan
Also included in:  Letter Writing Bundle
Expository Writing Lesson Plan - WRITING A FRIENDLY LETTER
Also included in:  Expository Writing Lessons 1-16 Bundled, Grades 5-8
Persuasive Essay Writing Unit With Sample Writing & Lesson Plans for High School
Also included in:  Essay Writing Unit Bundle: Expository, Narrative, Persuasive & Literary Analysis
Formal Letter Writing - Business Letters
2nd and 3rd Grade Writing Lessons for Opinion, Persuasive, and Letter Writing
Also included in:  2nd and 3rd Grade Writing Lessons for the Entire School Year
Sentence Writing Unit - 10 Complete Lessons | Lesson Plans, Activities, Keys
Friendly Letter Writing Lesson Plans (5 days)
Letter Writing Unit | Friendly Letters
Letter Writing
Friendly Letter Writing Lesson Plan, Posters, Worksheet, and Writing Paper
WRITING LESSON: An Open Letter To Teachers
Also included in:  Back-To-School Bundle
SIOP Model Lesson Plan - Recipe For Writing A Persuasive Letter
Kindergarten Writing Workshop Curriculum Bundle
Friendly Letter Writing Prompts Graphic Organizers Friendly Letter Templates
Also included in:  Narrative Biography Research Writing Prompts Opinion Poetry Writers Workshop
Opinion Writing
Opinion and Persuasive Writing Unit
Also included in:  Creative Writing Resources Bundle
Paragraph Writing Unit | 2nd Grade
Also included in:  Step up to Writing Inspired MEGA Bundle
Toddler Activities & Lesson Plans | Cars Themed Homeschool Preschool | Letter C
Also included in:  Toddler Activities & Lesson Plans | Tot School Curriculum | Homeschool Preschool
Friendly Letter Writing Printables
Stone Soup Lesson Plan Theme
Also included in:  Theme for Preschool Lesson Plan Bundle
Second Grade Opinion Writing Unit | Reviews & Persuasive Letters | Unit 4
Also included in:  Second Grade Writing Workshop Curriculum Bundle
Kindergarten Personal Narrative Writing Unit | Kindergarten Writing Unit 2
Also included in:  Kindergarten Writing Workshop Curriculum Bundle
TPT empowers educators to teach at their best.
We're Hiring
Help & FAQ
Terms of Service
Trademark & Copyright
Privacy Policy
Student Privacy Policy
Keep in Touch!
Are you getting the free resources, updates, and special offers we send out every week in our teacher newsletter?
Reading Rockets
Research, Guides and Resources
Our PBS Shows
An Introduction to Letter Writing
Letter writing can be fun, help children learn to compose written text, and provide handwriting practice — and letters are valuable keepsakes. This article contains activities to help children ages 5–9 put pen to paper and make someone's day with a handwritten letter.
Related Content
Letter writing is an essential skill. Despite the prevalence of emails and text messages, everyone has to write letters at some point. Letters of complaint, job applications, thank you letters, letters requesting changes or making suggestions — the list goes on and on. Encouraging children to write letters from an early age will improve their communication, social and handwriting skills, and teach them what they need to know about writing and structuring letters.
Within schools
Letter writing can be included in a school's curriculum. Visits to museums or farms prompt thank you letters, for example contacting schools in other countries and exchanging letters links into geography. Writing imaginary letters to historical people can encourage understanding of a historical period or topic. Writing letters encourages good social skills, learning to say thank you and asking for information politely.
Letter writing has many purposes, including the following:
It encourages good manners, especially writing 'thank you' letters
Children can write invitations
Children can write letters to friends and relatives
Pen pals are always popular, giving insights into other children's lives, especially overseas
In this article:
What's so special about receiving a handwritten letter?
Warming up to letter writing
Introducing letter writing
Formal letters
Informal letters
Letter of enquiry and letters providing information
Thank you letters
Letters of invitation
Letters of complaint
Letters to Santa
Letters to newspapers and magazines
What's so special about receiving a handwritten letter?
Quite apart from curriculum requirements, being asked to write letters is a task that will appeal to children. The sheer fun of sending and receiving letters appeals to every child. There is something special about putting letters into the post box and then having letters delivered by the postman… the brightly colored stamps, seeing your name on the envelope and knowing that inside is a long awaited letter from a friend or member of the family. It shows someone cares and has taken the time to sit down and think about you.
Handwritten letters have a charm of their own. You can take time to think about what you want to say. You can keep letters to read again and again. You can admire the handwriting; share dreams and thoughts. Responding by letter is very different to the immediacy of a text message or an email.
Back to Top
Activity 1: Warming up to letter writting
Use the above themes to encourage the children to discuss letter-writing. Ask the children to put their hands up if they have ever received a personal letter. Ask for one or more volunteers to talk about how they felt to receive the letter. Here are some initial questions that may help:
What was in your mind as you read the letter?
Did you keep the letter to read again?
Did you share your letter with anyone?
Did you write back?
And some questions for whole class or group discussions:
Can the class describe any differences between the handwritten letter and an email?
Do the children think there is ever a time when only a handwritten letter will do?
Ask the class to interview each other to find out each individual's experiences of writing and sending letters. This can be recorded in a chart.
Activity 2: Introducing letter writing
Collect a supply of different types of letters — both formal and informal. Ask the children to sort them out into two groups. Which were written to friends? Which are formal letters from businesses? Which features or characteristics distinguish formal from informal?
Having done that ask the children to look for differences between the two groups. This allows a discussion to take place about the different types of letter. Draw up a chart for each group covering:
Address — business or private?
Greeting — formal or informal?
Style of letter — friendly or business?
What is the message?
How does the letter end?
This will allow the children to find out for themselves the differences between formal and informal letters.
This could be followed by a discussion of the type of letters the children or their families write. How many occasions can they think of which would deserve a letter to be written? For example:
Letters of congratulation
Exchanging news
Writing to friends
Letters saying sorry for doing something wrong
Making appointments
Asking for information
Dealing with banks or stores
Letters to family members who live some way away
Letters to Santa Claus
Letters showing how much you appreciate someone
Letters responding to someone who has had bad news — showing how much you care by trying to share their sadness
In each case the children should decide what type of letter would be most appropriate in each case — formal or informal? Draw up a chart for each group.
Activity 3: Formal letters
These are sometimes known as business letters. They are written in a strictly formal style. Such letters are always written on an A4 (8" x 11") sheet of paper. They can be folded three times so that the address to which the letter is being sent can appear in the window of a business envelope. The layout is always the same.
The senders address is put at the top right hand side
Include telephone number and email if available
The address of the person receiving the letter goes on the left hand side below the sender's address
Greeting — Dear Sir or Madam, or To Whom It May Concern. You can use the titles Miss, Mrs. or Mr. if you know the name of the person to whom you are writing
The message
Complimentary close — Yours faithfully (when you don't know the person's name), or Yours sincerely (when you know the person's name to whom you're writing)
Write name in block letters (this is to ensure that the person receiving the letter knows exactly who has sent it. Signatures may not be very clear)
Typical layout of a formal letter
Activity 4: Informal letters
These are letters to friends and relations, or people you know well. Structure:
The sender's address should always appear on the top right hand corner of the page.
Greeting — There are several variations that can be used depending on how well you know the person: Dear Mary, Hi Mary, Greetings
Complimentary close — short comment, for example Love, Lots of love, With thanks, See you soon
Typical layout of an informal letter
Tips for writing good letters
Make sure that they are well written. It can be very annoying for someone to have to struggle to read handwriting. Always use your best and clearest handwriting.
Make sure all your contact details are clearly written down at the top of the letter. If they are not, then you might not get a reply. The correct address is essential.
Think about what you want to say. If necessary make some notes on a separate sheet of paper first. This will ensure that you do not forget anything.
Think about to whom you are writing the letter. Use the right style of writing and language — formal or informal, business like or friendly.
Lay out your letter using paragraphs. This makes it easier for the reader.
Activity 5: Letter of inquiry and letters providing information
Suitable for school, children ages 7-9
These are formal letters and messages need to be precise and detailed, covering all the required information. Two types of letters can be undertaken — a letter requesting information; and a reply providing it.
Out in the Milky Way, there is an alien curious about Earth. He writes a letter asking for information about liquids and gases. These do not exist on his planet and he finds it hard to understand what they are.
Write a letter explaining what liquids and gases are. How do they work? What examples could be included? What would be confusing about them? This could link to your science curriculum and could act as a revision exercise giving an opportunity for a discussion about gases and liquids.
The following day, give the children a thank you letter from the alien!
You could link up with another class in the school. One class could write letters of inquiry. These would be delivered to the second class for answering.
Activity 6: Thank you letters
Suitable for school, children ages 5-7 and 7-9
Thank you letters are very important and can be used in lots of ways: thanking organisations for helping, thanking people for helping you, thanking someone for a lovely time. They make a good follow up exercise after receiving presents or going on a visit.
Your class has just been out on a school visit to a farm. Write a thank you letter to the farmer. You will need to say thank you and how much you enjoyed the visit. Give some examples of what you enjoyed best about the day? Was it feeding the lambs? Pond dipping? Seeing the young animals?
Activity 7: Letters of invitation
Everyone likes receiving invitations. Receiving a hand written letter asking you to a party or a special event makes you feel very special.
Discuss what type of event might create a need to write letters of invitation. There are plenty of examples — birthday parties, Christmas parties, a visit to a beach with friends; going out to a farm or to the cinema, a wedding or when a new baby is christened; or simply inviting a friend to stay overnight at your house.
Choose a special event and write a letter inviting a friend. What do you need to include in the letter so that they have all the necessary information? You need to be clear on the date and the time, as well as the location. Your friend would be very upset if he or she went to the wrong place. Does he or she need to bring anything with them? Does he or she need to be collected at a set time? Will outdoor clothing be needed if the weather is bad? How will your friend reach the location of the event? Should a parent bring them or will you provide transport?
Remember to ask them to reply saying yes or no. Give a date by which you must have their reply. This is important if food and drink are being provided, or if you need to know exactly how many people are coming.
Activity 8: Letters of complaint
Suitable for school or home, children ages 5-7 and 7-9
When might a letter of complaint be sent? It might be when someone has done something wrong. Sometimes people write letters to organisations or the newspapers to complain about litter or poor service.
Just imagine what Mr. Bear must have been thinking at the end of the story of Goldilocks and the Three Bears. A naughty girl had broken into his home, eaten his porridge; broken a chair and then gone to sleep on his child's bed. Then she had run away without even saying sorry when the bears came back.
Write a letter of complaint from Mr. Bear to the parents of Goldilocks. What would he say? He would need to get his complaint across very strongly. There would be a list of Goldilocks' misdeeds. He would ask for an apology. Would he ask for payment for the broken chair? Would he ask for action to be taken against Goldilocks? Discuss the various possibilities with the children. What might he ask? Would it be a formal or informal letter?
Activity 9: Letters to Santa
Every year children write letters to Santa Claus, asking for special toys at Christmas time. But how many children think about Santa Claus himself? What is his life like? What are the problems of living amid all that snow and ice?
This is an exercise that could involve two classes within a school. Both classes should prepare for the task by listening to some unusual letters. J R Tolkein wrote a lovely book entitled Letters from Father Christmas. Every December a letter would appear telling wonderful tales of life at the North Pole — how the reindeer got loose and scattered presents all over the place; how the accident-prone Polar Bear climbed the North Pole and fell through the roof of Santa Claus's house.
Children in the younger class should write letters to Santa. They should ask about life at the North Pole. What do they think it is like? What sort of characters live there? How does Santa Claus occupy his time for the rest of the year? Consider how they would feel living in a land of snow and ice all year round? Would they want a holiday somewhere warmer?
Once the letters are written, gather them up and take them to an older group of children. Give each child a letter and ask them to write a reply. This would give them the opportunity to use their imagination and create imaginative responses, possibly little stories about life at the North Pole. They could also add in their own ideas. But care should be taken to make sure that all the questions in the original letters are answered.
Finally, take the answers back to the original class for reading and discussing.
Activity 10: Letters to newspapers and magazines
These are letters that aim to pass on an opinion or a message. Examples can be easily obtained from local newspapers or from children's magazines such as DK Find Out or Aquila. They are written slightly differently to normal letters and are always addressed Dear Sir, or Dear — (name of magazine).
These are letters that are directed at a wide audience — anyone who happens to read it. The sender never gets a direct letter back through the post. Sometimes people are so interested in a letter, which has appeared in a magazine that they want to express their opinions. So they then write a letter to the magazine giving their comments.
So what might go into a letter to a newspaper or magazine? It might be a request — could you provide more stories about skate boarding, or nature? It might be a way of thanking people for providing help. Sometimes letters to local newspapers are used to thank people who helped find a lost dog or help after an accident; but who did not leave their names. By writing to the paper, the sender hopes that the message will reach the people concerned. Sometimes such letters are used to express opinions such as on climate change, treatment of animals, poor services, not enough buses, and human rights.
Letters of this kind need to be very precise. Arguments should be clearly made. Requests for action should be clearly indicated. From reading the letter, everyone should know exactly what the sender is asking.
A major issue is recycling and energy conservation. Everyone is trying to reduce the amount of energy we use. Look at all the reasons why energy conservation is so important. Then, write a letter to a paper or magazine saying why you believe we should avoid wasting energy. Give examples of how energy can be saved? What measures should we take in our homes or schools? Could anything more be done?
My Child magazine. (2007). Letter Writing Resource Pack. London, U.K. Author. Retrieved February 26, 2008, from http://www.mychild.co.uk/docs/walw/Letter_writing_Resource_Pack.pdf.
Related Topics
Quite helpful
This is quite helpful for students.
Teaching my third grade students tomorrow found it very helpful specialy the activities.Thanks.
Very helpful
this helped me understand an informational letter
Great basic format. It is a strong foundation to start. The layout gives a structure that students can use as a template.
Some useful ideas, but I'm concerned that the layout of the formal letter is incorrect - the date should be underneath the address on the top right of the page, and a letter beginning Dear Sir/Madam should end in Yours faithfully, not Yours sincerely! Sorry for pointing it out, but I hope it helps!
this is really helpful. thanks
It is very helpful for our students, but I think we need more examples and also how could these letters be evaluated in class.
really wonderful activities are suggested to improve letter writing.
I'm teaching my 7 year old daughter the art of personal letter writing. I found this information very useful! Thank You!!
very!!!!!!!!!helpful
You can give more topics for kids to write at home
I don't think you should write your name in the top right hand corner of the letter regardless of whether it is formal or informal. You should only write your address and the date there but not your name. Am I wrong?
Yes. You're right.
very useful site
This is quite useful but needs more examples
Thank you this was very helpful! Teaching this to my third graders tomorrow!
A great read as I am looking for various language to use in writing thank-you notes to parents for Christmas gifts. Our whole sharing month in December revolved around distinguishing between a need and a want. The thank-you with a purpose will be awesome as an example of an informal thank-you letter. As a follow up, we will write a formal thank-you to our parent council for their efforts in generating funds for our school. (Christmas raffle baskets with a theme)
quite helpful
These came in handy as I prepare mu pupils to write letters. Thanks a million for this information.
I had my ELLs create an invitation using your lesson. After choosing the event, we brainstormed together, using a concept map, what would need to be included. Then I made like a story map for them to fill in with the required info. For my lower ELLs, I used frames: Please come to my ____ on ____ at ____. They referenced the vocabulary we brainstormed and that I had written on a chart. After drafting, we did peer edits, from a specific check list, and revised and edited for specific errors based on peer edit. It went really well and studets enjoyed decorating their invitations as well!
Two books for children i have found very useful are Dear Greenpeace ( Walker Books) and The Jolly Postman or other peoples letters ( Puffin Books) there amazing for this topic for ks1
this is quite helpful for students..
I LOVE the letters to santa lesson! I am student teaching and third grade right now and trying to figure out how to pull this off. For example, should they write the letters to Santa or should they answer the letters. I am pretty sure a lot of them believe in Santa still...Anyway, love this idea and will use it in the future if not this year!
i am looking for a decent and friendly handwriting scheme/style to use from Reception through to Year 6. Currently we have Berol and it doesn't seem to be favoured by many. desperate for some feedback and guidance
I'm a 3rd grade teacher and have done this activity for many years. Teaching in a K-5 school, I've teamed with a 5th grade teacher to answer the letters. I've done it 2 ways: 1) the students write to Santa asking for something, but they have to PERSUADE Santa that they deserve the present they are asking for (use evidence of what you did to earn the present. 2) My students are "buddies" to a class of Kinders. They ask their buddies what to name a present they would like. The 3rd grader asks the buddy about their behavior/good deeds, etc, then writes the letter on behalf of the buddy (and reads it aloud along with the response.) The 5th graders writing the responses are instructed to respond to the letters as one of Santa's elves. They make up a name (Snowflake, Jiggly, Dreamboat, etc, so 3rd grader doesn't know that a 5th grader is writing) and then commend the writer for their hard work/good deeds BUT they cannot guarantee a present. The 5th grade teacher encourages them to make up contingencies (that's a popular request, we're running low on stock, I'm not sure we have that yet, etc) so that the writers' evidence/behavior is acknowledged, but 3rd's aren't set up for disappointment. The letters are delivered by a mysterious knock, with a plain envelope laying in front of the door, but no delivery person in sight. Jewish students write letters to their parents requesting Hanukkah gifts, using the same evidence criteria. I've done this project 15+ years, and every year this project is a big hit, as students read and re-read their responses to their classmates. (Third graders also become proofreaders when they find writing mistakes by the elves. I respond that the elves need to have more writing lessons.)
Thank you for the awesome resource..
teaching this unit tomorrow, this was helpful
letters are important, a skill sadly lacking these days
What about 'grading' a thank you letter?
Its better to include more examples of types of letters.
I teach English Lnguage Learners and they will love this unit. A good (and funny) book to use with this unit is "I Wanna Iguana" by Karen Kaufman Orloff. Thanks!
Add comment
More information about text formats
No HTML tags allowed.
Web page addresses and e-mail addresses turn into links automatically.
Lines and paragraphs break automatically.
New and Popular
Our Literacy Blogs
Reading SOS
Tips from experts on how to help your children with reading and writing at home.
Target the Problem
Pinpoint the problem a struggling reader is having and discover ways to help.
FAQs About Reading
Real questions from parents and educators, answered by experts.
Literacy Apps
Find the best apps for building literacy skills.
Book Finder
Create your own lists of fiction and nonfiction children's books. We have more than 5,000 books in our library!
Write letters that make things happen!
Event Description
On July 7, 1983, Samantha Smith, a U.S. schoolgirl, flew to the Soviet Union at the invitation of Premier Yuri Andropov, all because of a letter that she wrote. Smith wrote a letter to Andropov asking, "Why do you want to conquer the whole world, or at least our country?" The Soviet leader replied to her letter, and Samantha ultimately visited the nation, becoming a good-will ambassador.
Classroom Activity
Have your students write their own letters that make things happen. Students can write individual letters, or work in small groups or as a full group. Letter writing can be a culminating project after you've completed a unit of study on a particular topic. For instance, if you've just completed a unit on animals, students might write letters to the local zoo, praising them for the ways that they care for animals or making suggestions for changes. After exploring freedom of speech in a censorship unit, students might write letters to the editor of the local newspaper explaining their feelings about specific books that are (or aren't) included in the library. In addition to the resources available in the Letter Generator and on the Letter Generator page , there are resources available from Gallaudet University that demonstrate how to write advocacy letters. The American Civil Liberties Union provides tips on writing letters to the editor and letters to elected officials , which can be useful for projects where students are looking at issues of civil rights, freedom of speech, and student rights.
This site includes information about Samantha Smith, her famous letter to Andropov, her subsequent work as a goodwill ambassador, and the continuing work of the foundation devoted to her memory.
Students can find tips from Arthur on letter and e-mail writing, which can serve as a resource for independent letter writing.
The FIRE Student Network recognizes the importance of advancing civil liberties in schools. Visit the site for resources on the topic.
View the Fairness and Accuracy in Reporting site for resources that help identify and respond to inaccurate or unfair news coverage.
Related Resources
Lesson Plans
Student Interactives
Strategy Guides
Through a classroom game and resource handouts, students learn about the techniques used in persuasive oral arguments and apply them to independent persuasive writing activities.
Students will research a local issue, and then write letters to two different audiences, asking readers to take a related action or adopt a specific position on the issue.
The Letter Generator is a useful tool for students to learn the parts of a business or friendly letter and then compose and print letters for both styles of correspondence.
Explore Resources by Grade
Skip to primary navigation
Skip to main content
Skip to primary sidebar
Teaching Expertise
Classroom Ideas
Teacher's Life
Deals & Shopping
Privacy Policy
20 Creative Writing Activities for Middle School
June 10, 2022 // by Stephanie Ledford
Some students are prolific writers, needing no help putting pen to paper and telling their stories. However, there are other students who need a little more direction in order to get their stories out. Whatever the case may be, these 20 creative writing activities for middle school will have all of your students showing their creative prowess.
1. I Am From
After reading the poem "Where I'm From" by George Ella Lyon, have students write their own "I Am From" poems. Using a template, all students will be able to create wonderful poems illustrating their own unique backgrounds.
Learn more: Regents of the University of Minnesota
2. Found Poems
Using the words of others, students create their own "found poems." By taking a snippet here and a line there, they can arrange them in their own creative ways to create new, interesting poems. Reading a book as a class? Have them use the book to create a found poem!
Learn more: Read, Write, Think
After reading "My Name" by Sandra Cisneros , have students create their own name poems. This assignment asks students to connect themselves to something bigger--their families, their cultural, and their historical background. All students will feel like poets after this assignment.
Learn more: Ojanpa
4. Chain Stories
This assignment has each student start with a blank piece of paper. After giving them a writing prompt , every student begins writing a story. After your chosen time limit is up, they stop writing and pass their story to the next person in their group who then has to continue telling the story. When each story returns to its original author, the activity is complete.
Learn more: Creativities ESL
5. Visual Character Sketch
Being able to add depth to a character can be difficult for many students. By allowing a student to create a visual sketch, you are allowing them a different approach to writing a character description.
Learn more: Adobe Education Exchange
6. What If...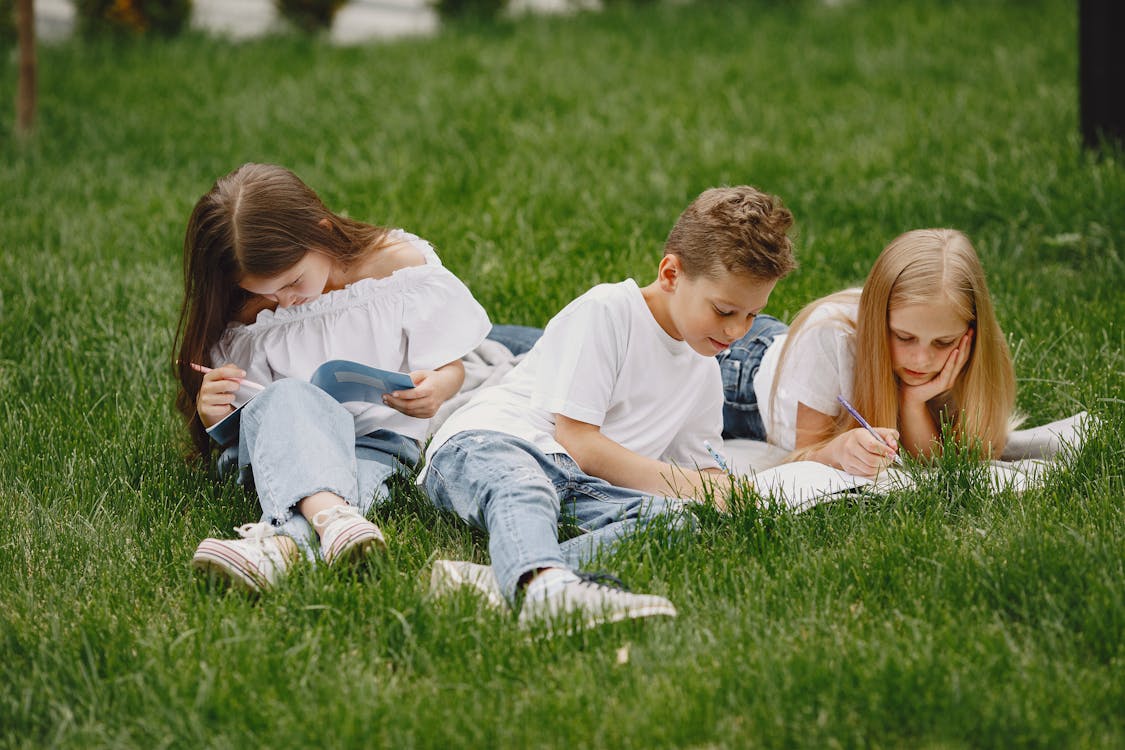 "What if" writing prompts are a great way to get students' creative juices flowing. By posing a question, students are given a starting point, and it is up to them what twists and turns their stories will take. Will they write a sad, action-packed, or scary story? The possibilities are endless.
Learn more: The Wolfe's Writing Den
7. Descriptive Writing Prompts
Descriptive writing activities are another way for middle school students to practice their creative writing skills. They can give their descriptions their own unique twists by using their different writing styles to describe common objects. And hey, they might have a different appreciation for the things in their everyday worlds after this assignment!
Learn more: Academic Writing Success
8. Scary Stories
Go through the entire writing process and teach your students how to write scary stories! Before you begin writing, though, read them some (age-appropriate) scary stories to give them the chills and an idea of what is expected in a scary story.
Learn more: Keep 'em Thinking
9. Daily Journal Writing
There is no better way to improve students' writing abilities than to do daily writing. Each day, give students a different prompt and allow them to write for fifteen minutes. After, allow them the opportunity to share their story with their peers or the class.
Learn more: Daily Teaching Tools
10. So Much Depends Upon...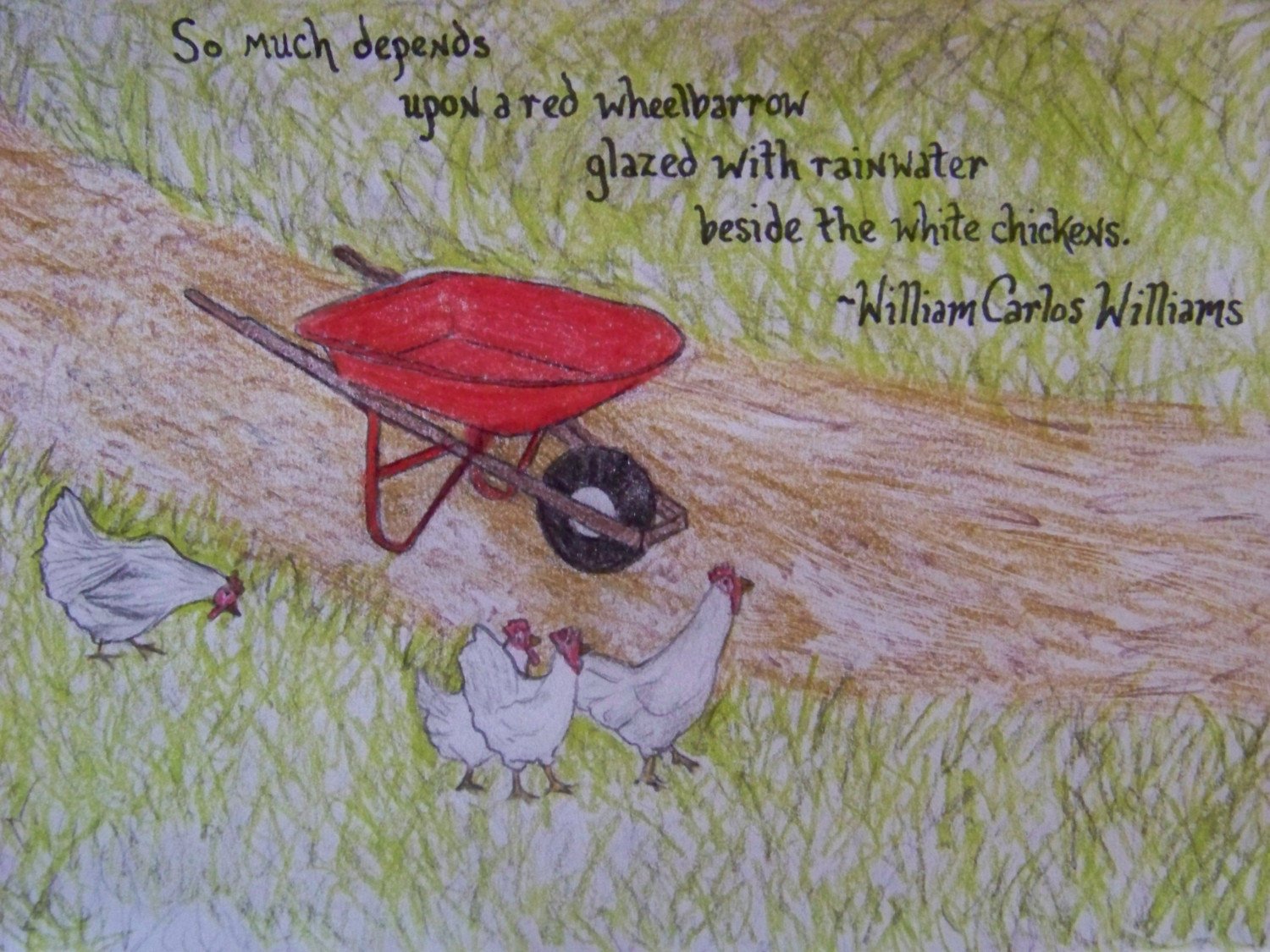 " The Red Wheel Barrow "--such a simple yet eloquent poem. Following this lesson plan, your students will be able to write their own simple yet eloquent poems and feel like accomplished writers.
Learn more: NYLearns
11. An Ode to...
Reluctant writers are often intimidated by complicated writing ideas. By using a template like the one pictured above, your students will all be able to feel like poets as they create their own odes about a person, place, or thing.
Learn more: Crafting Connections
12. Story Starters
Story starters are a great way to help students begin their stories. If you have a digital classroom, the Scholastic story starter page is great because it can formulate much different writing prompts, helping engage all students.
Learn more: Scholastic
13. My Time Machine Trip
What is everyday life like in 1902? How about in 2122? Have students write stories about their experiences traveling through time using the attached worksheet. For those that need a little extra help, allow them to research time periods so they have an idea of what life was like then.
Learn more: K12 Reader
14. Writing and Math
This is a great assignment for a math class! Using the provided instructions, students are to write a story that explains to their boss the math they used while delivering packages. Since this assignment asks them to cover specific math concepts, make sure you cover them in class first (or hand this assignment to a math teacher and let them have at it!).
Learn more: Dr. Hamblin
15. How to Bake Cookies for Santa
Seasonal writing activities are a great way to get kids excited around the holidays! One way to get descriptive paragraphs out of your students is through these instructions on how to bake cookies for Santa. The great thing about this assignment is all levels of writers can participate. Those that are more advanced can provide more details and struggling writers can still feel accomplished by explaining the cookie-making process!
Learn more: Teachers Pay Teachers
16. Diary Entry of a Literary Character
Another favorite among creative writing ideas is having students write diary entries in the voice of a character from literature. This can be a character from a book you read as a class or from a book they read on their own. Either way, it will showcase their creative writing skills and their knowledge of the character!
Learn more: Banana Magic
17. Write a Rant
Writing a rant is a good assignment to use when you are trying to teach about the different voices we use when writing. When writing a rant, you are going to use an angrier, more aggressive voice than if you were writing a children's story. This is a great warm-up to get students ready to write persuasive essays.
Learn more: Teachers and Writers Magazine
18. Write a Newspaper Story
After reading through some newspapers to get ideas on how newspaper articles are formatted, have each of your students write their own article. When they are all done, you can compile a classroom newspaper!
Learn more: Nie Online
19. Coat of Arms
Studying Shakespeare? Maybe European countries where it was common to have a Coat of Arms? If so, this assignment is perfect for your class. Have students create a coat of arms and then write a few paragraphs explaining their choices.
20. A Letter to Yourself
Have students write letters to their future selves. Give them specific questions to answer like "where do you see yourself in five years? Are you happy with your life? Is there anything you would change?" And then in five years, mail the letters to their parents!
Learn more: Ms. Carota
Related posts:
You'll also like:.
No related posts.