UNITED STATES
台灣 (TAIWAN)
TÜRKIYE (TURKEY)
Academic Editing Services
- Research Paper
- Journal Manuscript
- Dissertation
- College & University Assignments
Admissions Editing Services
- Application Essay
- Personal Statement
- Recommendation Letter
- Cover Letter
- CV/Resume
Business Editing Services
- Business Documents
- Report & Brochure
- Website & Blog
Writer Editing Services
Our Editors
Client reviews.
Editing & Proofreading Prices
Wordvice Points
Partner Discount
Plagiarism Checker
APA Citation Generator
MLA Citation Generator
Chicago Citation Generator
Vancouver Citation Generator
- APA Style
- MLA Style
- Chicago Style
- Vancouver Style
Writing & Editing Guide
Academic Resources
Admissions Resources
Formatting Research Paper Headings and Subheadings
Different style guides have different rules regarding the formatting of headings and subheadings in a paper, but what information you should actually put into your subheadings is a different question and often up to personal taste. Here we quickly summarize general guidelines, different approaches, and what not to do when choosing headings for a research paper.
Does it matter how I name my sections and subsections?
The main sections of a research paper have general headers and are often journal-specific, but some (e.g., the methods and discussion section) can really benefit from subsections with clear and informative headers. The things to keep in mind are thus the general style your paper is supposed to follow (e.g., APA, MLA), the specific guidelines the journal you want to submit to lists in their author instructions , and your personal style (e.g., how much information you want the reader to get from just reading your subsection headers).
Table of Contents:
Style Guides: Rules on Headings and Subheadings
What Sections and Subsections Do You Need?
How Should You Name Your Sections and Subsections?
Avoid These Common Mistakes
Style Guides: Research Paper Heading and Subheading Format
Headers identify the content within the different sections of your paper and should be as descriptive and concise as possible. That is why the main sections of research articles always have the same or very similar headers ( Introduction, Methods, Results, Discussion ), with no or only small differences between journals. However, you also need to divide the content of some of these sections (e.g., the method section) into smaller subsections (e.g., Participants, Experimental Design, and Statistical Analysis ), and make sure you follow specific journal formatting styles when doing so.
If the journal you submit to follows APA style , for example, you are allowed to use up to five levels of headings, depending on the length of your paper, the complexity of your work, and your personal preference. To clearly indicate how each subsection fits into the rest of the text, every header level has a different format – but note that headers are usually not numbered because the different formatting already reflects the text hierarchy.
APA style headings example structure
Level 1 Centered, Bold, Title Case
Text begins as a new paragraph.
Level 2 Left-aligned, Bold, Title Case
Level 3 Left-aligned, Bold Italic, Title Case
Level 4 Indented, Bold, Title Case, Period . Text begins on the same
line and continues as a regular paragraph.
Level 5 Indented, Bold Italic, Title Case, Period. Text begins on the
same line and continues as a regular paragraph.
If you only need one section header (e.g. Methods ) and one level of subsection headers (e.g., Participants, Experimental Design, and Statistical Analysis ), use Level 1 and Level 2 headers. If you need three levels of headings, use Levels 1, 2, and 3 (and so on). Do not skip levels or combine them in a different way.
If you write a paper in Chicago style or MLA style , then you don't need to follow such exact rules for headings and subheadings. Your structure just has to be consistent with the general formatting guidelines of both styles (12-pts Times New Roman font, double-spaced text, 0.5-inch indentation for every new paragraph) and consistent throughout your paper. Make sure the different formatting levels indicate a hierarchy (e.g., boldface for level 1 and italics for level 2, or a larger font size for level 1 and smaller font size for level 2). The main specifics regarding Chicago and MLA headings and subheadings are that they should be written in title case (major words capitalized, most minor words lowercase) and not end in a period. Both styles allow you, however, to number your sections and subsections, for example with an Arabic number and a period, followed by a space and then the section name.
MLA paper headings example structure
1. Introduction
2. Material and Methods
2.1 Subject Recruitment
2.2 Experimental Procedure
2.3 Statistical Analysis
3.1 Experiment 1
3.2 Experiment 2
4. Discussion
5. Conclusion
What research paper headings do you need?
Your paper obviously needs to contain the main sections ( Introduction, Methods, Results, Discussion, and maybe Conclusion ) and you need to make sure that you name them according to the target journal style (have a look at the author guidelines if you are unsure what the journal style is). The differences between journals are subtle, but some want you to combine the results and discussion sections, for example, while others don't want you to have a separate conclusion section. You also need to check whether the target journal has specific rules on subsections (or no subsections) within these main sections. The introduction section should usually not be subdivided (but some journals do not mind), while the method section, for example, always needs to have clear subsections.
How to Name Your Sections and Subsections
The method section subheadings should be short and descriptive, but how you subdivide this section depends on the structure you choose to present your work – which can be chronological (e.g., Experiment 1, Experiment 2 ) or follow your main topics (e.g., Visual Experiment, Behavioral Experiment, Questionnaire ). Have a look at this article on how to write the methods for a research paper if you need input on what the best structure for your work is. The method subheadings should only be keywords that tell the reader what information is following, not summaries or conclusions. That means that " Subject Recruitment " is a good methods section subheading, but " Subjects Were Screened Using Questionnaires " is not.
The subheadings for the result section should then follow the general structure of your method section, but here you can choose what information you want to put in every subheading. Some authors keep it simple and just subdivide their result section into experiments or measures like the method section, but others use the headings to summarize their findings so that the reader is prepared for the details that follow. You could, for example, simply name your subsections " Anxiety Levels " and " Social Behavior ," if those are the measures you studied and explained in the method section.
Or, you could provide the reader with a glimpse into the results of the analyses you are going to describe, and instead name these subsections " Anxiety-Like Behaviors in Mutant Mice " and " Normal Social Behaviors in Mutant Mice ." While keeping headings short and simple is always a good idea, such mini-summaries can make your result section much clearer and easier to follow. Just make sure that the target journal you want to submit to does not have a rule against that.
Common Heading and Subheading Mistakes
Subheadings are not sentences.
If your heading reads like a full sentence, then you can most probably omit the verb or generally rephrase to shorten it. That also means a heading should not contain punctuation except maybe colons or question marks – definitely don't put a period at the end, except when you have reached heading level 4 in the APA formatting style (see above) and the rules say so.
Be consistent
Always check your numbering, for example for spaces and periods before and after numbers (e.g., 3.2. vs 3.2 ), because readability depends on such features. But also make sure that your headings are consistent in structure and content: Switching between short keyword headings (e.g., " Experiment 2 ") and summary headings (e.g., " Mice Do not Recognize People ") is confusing and never a good idea. Ideally, subheadings within a section all have a similar structure. If your first subsection is called " Mice Do not Recognize People ," then " People Do not Recognize Mice" is a better subheader for the next subsection than "Do People Recognize Mice? ", because consistency is more important in a research paper than creativity.
Don't overdo it
Not every paragraph or every argument needs a subheading. Only use subheadings within a bigger section if you have more than one point to make per heading level, and if subdividing the section really makes the structure clearer overall.
Before submitting your journal manuscript to academic publishers, be sure to get English editing services , including manuscript editing or paper editing from a trusted source. And receive instant proofreading with Wordvice AI, our ai online editor , which provides unlimited editing while drafting your research work.

Want to create or adapt books like this? Learn more about how Pressbooks supports open publishing practices.
13.1 Formatting a Research Paper
Learning objectives.
Identify the major components of a research paper written using American Psychological Association (APA) style.
Apply general APA style and formatting conventions in a research paper.
In this chapter, you will learn how to use APA style , the documentation and formatting style followed by the American Psychological Association, as well as MLA style , from the Modern Language Association. There are a few major formatting styles used in academic texts, including AMA, Chicago, and Turabian:
AMA (American Medical Association) for medicine, health, and biological sciences
APA (American Psychological Association) for education, psychology, and the social sciences
Chicago—a common style used in everyday publications like magazines, newspapers, and books
MLA (Modern Language Association) for English, literature, arts, and humanities
Turabian—another common style designed for its universal application across all subjects and disciplines
While all the formatting and citation styles have their own use and applications, in this chapter we focus our attention on the two styles you are most likely to use in your academic studies: APA and MLA.
If you find that the rules of proper source documentation are difficult to keep straight, you are not alone. Writing a good research paper is, in and of itself, a major intellectual challenge. Having to follow detailed citation and formatting guidelines as well may seem like just one more task to add to an already-too-long list of requirements.
Following these guidelines, however, serves several important purposes. First, it signals to your readers that your paper should be taken seriously as a student's contribution to a given academic or professional field; it is the literary equivalent of wearing a tailored suit to a job interview. Second, it shows that you respect other people's work enough to give them proper credit for it. Finally, it helps your reader find additional materials if he or she wishes to learn more about your topic.
Furthermore, producing a letter-perfect APA-style paper need not be burdensome. Yes, it requires careful attention to detail. However, you can simplify the process if you keep these broad guidelines in mind:
Work ahead whenever you can. Chapter 11 "Writing from Research: What Will I Learn?" includes tips for keeping track of your sources early in the research process, which will save time later on.
Get it right the first time. Apply APA guidelines as you write, so you will not have much to correct during the editing stage. Again, putting in a little extra time early on can save time later.
Use the resources available to you. In addition to the guidelines provided in this chapter, you may wish to consult the APA website at http://www.apa.org or the Purdue University Online Writing lab at http://owl.english.purdue.edu , which regularly updates its online style guidelines.
General Formatting Guidelines
This chapter provides detailed guidelines for using the citation and formatting conventions developed by the American Psychological Association, or APA. Writers in disciplines as diverse as astrophysics, biology, psychology, and education follow APA style. The major components of a paper written in APA style are listed in the following box.
These are the major components of an APA-style paper:
Body, which includes the following:
Headings and, if necessary, subheadings to organize the content
In-text citations of research sources
References page
All these components must be saved in one document, not as separate documents.
The title page of your paper includes the following information:
Title of the paper
Author's name
Name of the institution with which the author is affiliated
Header at the top of the page with the paper title (in capital letters) and the page number (If the title is lengthy, you may use a shortened form of it in the header.)
List the first three elements in the order given in the previous list, centered about one third of the way down from the top of the page. Use the headers and footers tool of your word-processing program to add the header, with the title text at the left and the page number in the upper-right corner. Your title page should look like the following example.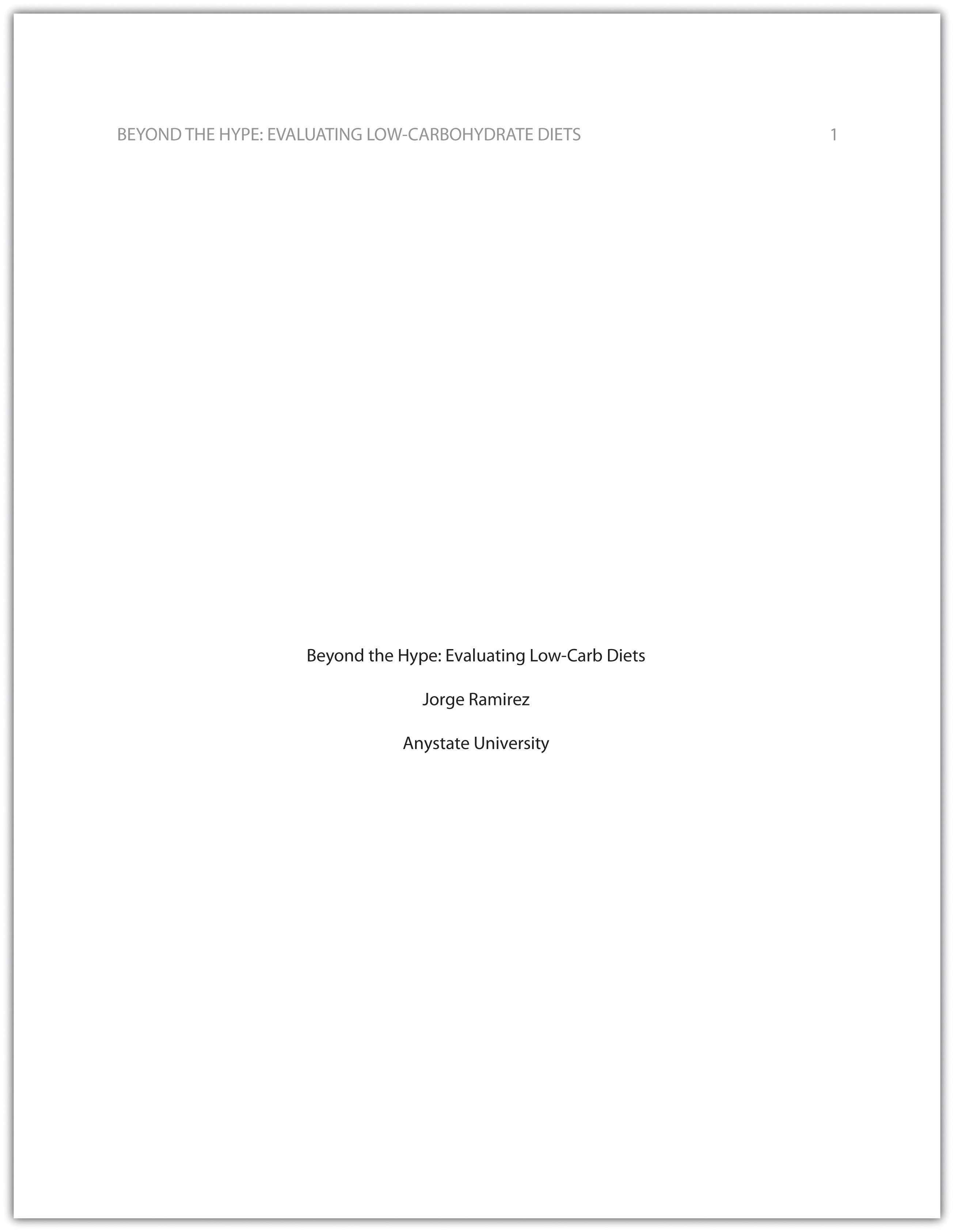 The next page of your paper provides an abstract , or brief summary of your findings. An abstract does not need to be provided in every paper, but an abstract should be used in papers that include a hypothesis. A good abstract is concise—about one hundred fifty to two hundred fifty words—and is written in an objective, impersonal style. Your writing voice will not be as apparent here as in the body of your paper. When writing the abstract, take a just-the-facts approach, and summarize your research question and your findings in a few sentences.
In Chapter 12 "Writing a Research Paper" , you read a paper written by a student named Jorge, who researched the effectiveness of low-carbohydrate diets. Read Jorge's abstract. Note how it sums up the major ideas in his paper without going into excessive detail.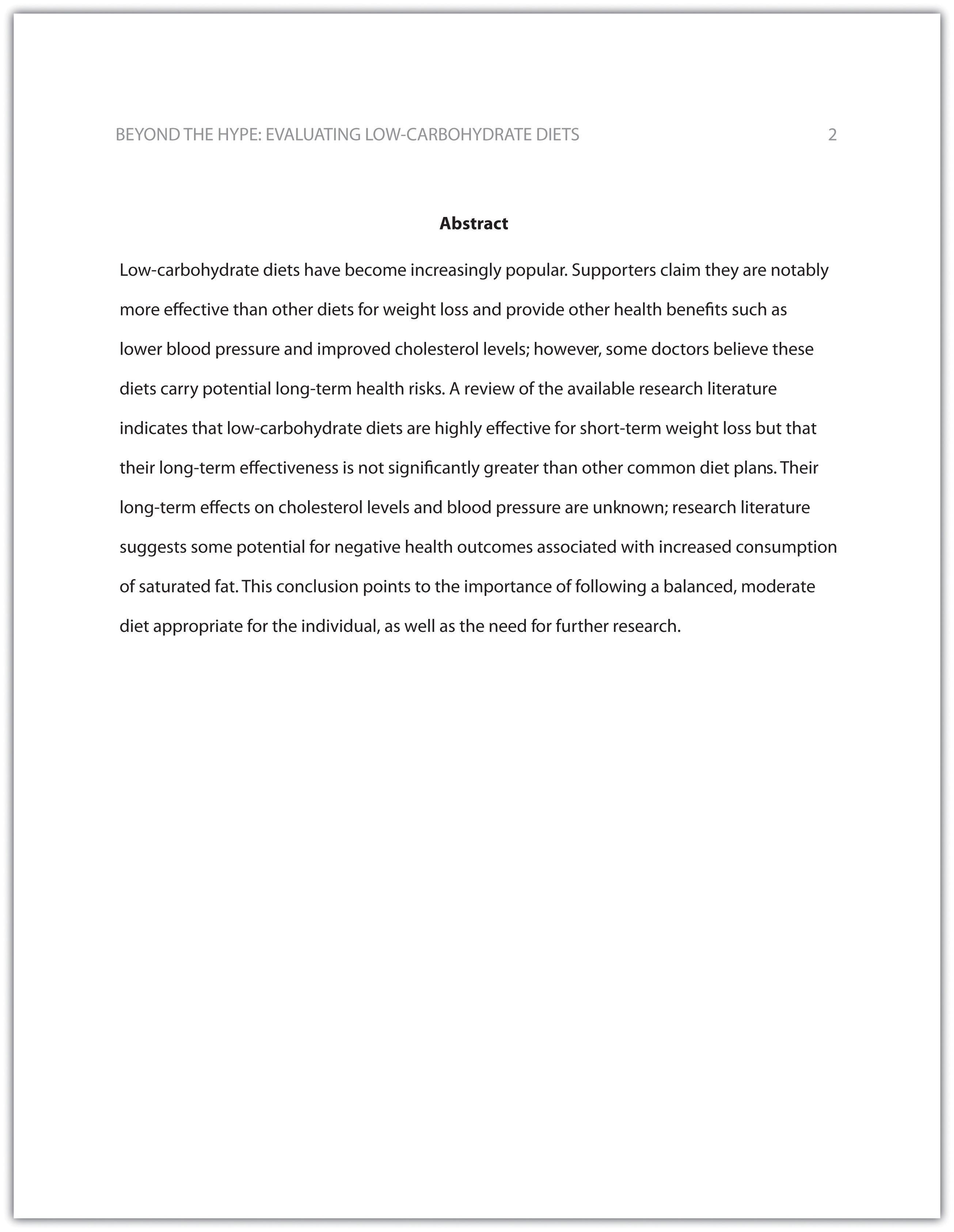 Write an abstract summarizing your paper. Briefly introduce the topic, state your findings, and sum up what conclusions you can draw from your research. Use the word count feature of your word-processing program to make sure your abstract does not exceed one hundred fifty words.
Depending on your field of study, you may sometimes write research papers that present extensive primary research, such as your own experiment or survey. In your abstract, summarize your research question and your findings, and briefly indicate how your study relates to prior research in the field.
Margins, Pagination, and Headings
APA style requirements also address specific formatting concerns, such as margins, pagination, and heading styles, within the body of the paper. Review the following APA guidelines.
Use these general guidelines to format the paper:
Set the top, bottom, and side margins of your paper at 1 inch.
Use double-spaced text throughout your paper.
Use a standard font, such as Times New Roman or Arial, in a legible size (10- to 12-point).
Use continuous pagination throughout the paper, including the title page and the references section. Page numbers appear flush right within your header.
Section headings and subsection headings within the body of your paper use different types of formatting depending on the level of information you are presenting. Additional details from Jorge's paper are provided.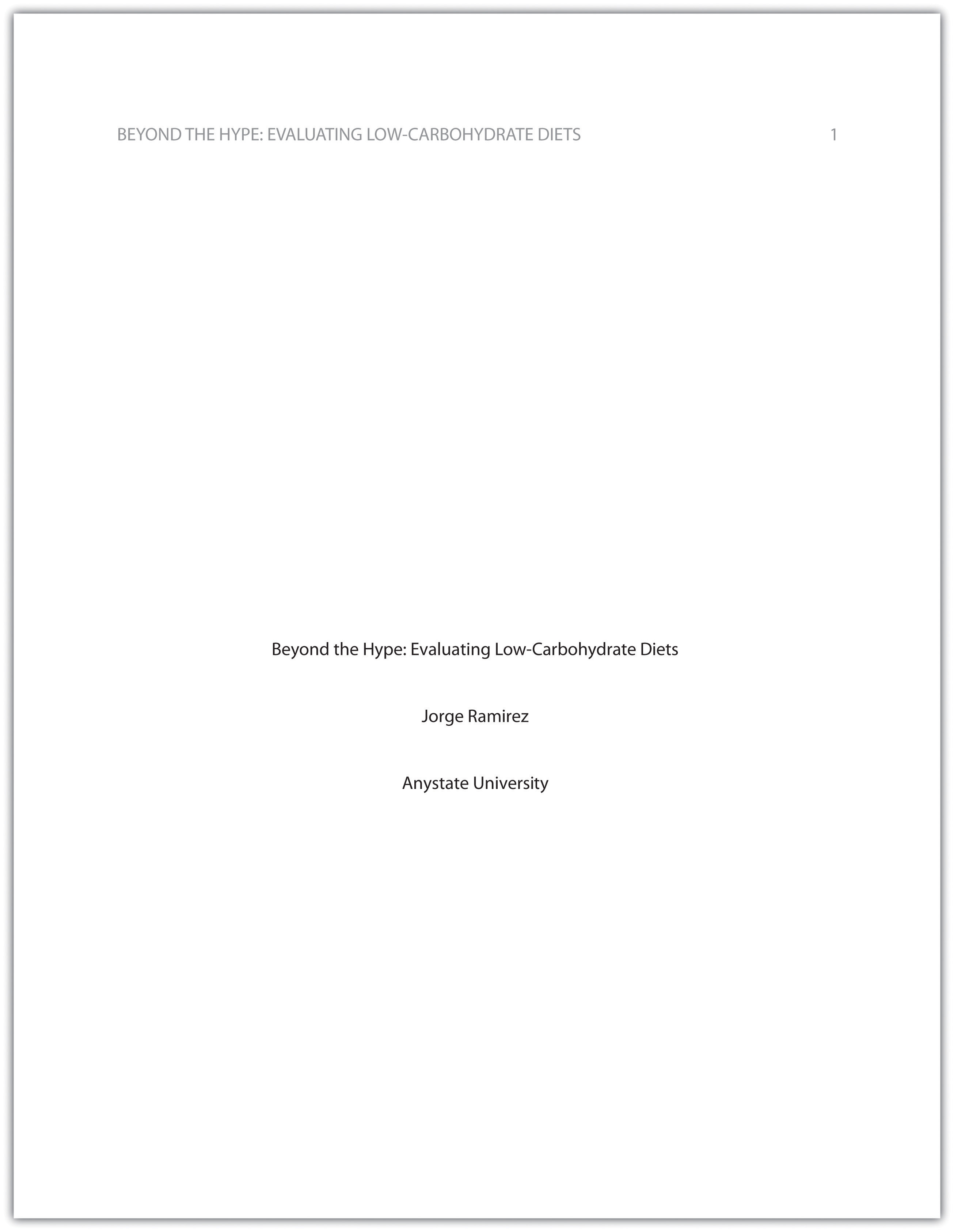 Begin formatting the final draft of your paper according to APA guidelines. You may work with an existing document or set up a new document if you choose. Include the following:
Your title page
The abstract you created in Note 13.8 "Exercise 1"
Correct headers and page numbers for your title page and abstract
APA style uses section headings to organize information, making it easy for the reader to follow the writer's train of thought and to know immediately what major topics are covered. Depending on the length and complexity of the paper, its major sections may also be divided into subsections, sub-subsections, and so on. These smaller sections, in turn, use different heading styles to indicate different levels of information. In essence, you are using headings to create a hierarchy of information.
The following heading styles used in APA formatting are listed in order of greatest to least importance:
Section headings use centered, boldface type. Headings use title case, with important words in the heading capitalized.
Subsection headings use left-aligned, boldface type. Headings use title case.
The third level uses left-aligned, indented, boldface type. Headings use a capital letter only for the first word, and they end in a period.
The fourth level follows the same style used for the previous level, but the headings are boldfaced and italicized.
The fifth level follows the same style used for the previous level, but the headings are italicized and not boldfaced.
Visually, the hierarchy of information is organized as indicated in Table 13.1 "Section Headings" .
Table 13.1 Section Headings
A college research paper may not use all the heading levels shown in Table 13.1 "Section Headings" , but you are likely to encounter them in academic journal articles that use APA style. For a brief paper, you may find that level 1 headings suffice. Longer or more complex papers may need level 2 headings or other lower-level headings to organize information clearly. Use your outline to craft your major section headings and determine whether any subtopics are substantial enough to require additional levels of headings.
Working with the document you developed in Note 13.11 "Exercise 2" , begin setting up the heading structure of the final draft of your research paper according to APA guidelines. Include your title and at least two to three major section headings, and follow the formatting guidelines provided above. If your major sections should be broken into subsections, add those headings as well. Use your outline to help you.
Because Jorge used only level 1 headings, his Exercise 3 would look like the following:
Citation Guidelines
In-text citations.
Throughout the body of your paper, include a citation whenever you quote or paraphrase material from your research sources. As you learned in Chapter 11 "Writing from Research: What Will I Learn?" , the purpose of citations is twofold: to give credit to others for their ideas and to allow your reader to follow up and learn more about the topic if desired. Your in-text citations provide basic information about your source; each source you cite will have a longer entry in the references section that provides more detailed information.
In-text citations must provide the name of the author or authors and the year the source was published. (When a given source does not list an individual author, you may provide the source title or the name of the organization that published the material instead.) When directly quoting a source, it is also required that you include the page number where the quote appears in your citation.
This information may be included within the sentence or in a parenthetical reference at the end of the sentence, as in these examples.
Epstein (2010) points out that "junk food cannot be considered addictive in the same way that we think of psychoactive drugs as addictive" (p. 137).
Here, the writer names the source author when introducing the quote and provides the publication date in parentheses after the author's name. The page number appears in parentheses after the closing quotation marks and before the period that ends the sentence.
Addiction researchers caution that "junk food cannot be considered addictive in the same way that we think of psychoactive drugs as addictive" (Epstein, 2010, p. 137).
Here, the writer provides a parenthetical citation at the end of the sentence that includes the author's name, the year of publication, and the page number separated by commas. Again, the parenthetical citation is placed after the closing quotation marks and before the period at the end of the sentence.
As noted in the book Junk Food, Junk Science (Epstein, 2010, p. 137), "junk food cannot be considered addictive in the same way that we think of psychoactive drugs as addictive."
Here, the writer chose to mention the source title in the sentence (an optional piece of information to include) and followed the title with a parenthetical citation. Note that the parenthetical citation is placed before the comma that signals the end of the introductory phrase.
David Epstein's book Junk Food, Junk Science (2010) pointed out that "junk food cannot be considered addictive in the same way that we think of psychoactive drugs as addictive" (p. 137).
Another variation is to introduce the author and the source title in your sentence and include the publication date and page number in parentheses within the sentence or at the end of the sentence. As long as you have included the essential information, you can choose the option that works best for that particular sentence and source.
Citing a book with a single author is usually a straightforward task. Of course, your research may require that you cite many other types of sources, such as books or articles with more than one author or sources with no individual author listed. You may also need to cite sources available in both print and online and nonprint sources, such as websites and personal interviews. Chapter 13 "APA and MLA Documentation and Formatting" , Section 13.2 "Citing and Referencing Techniques" and Section 13.3 "Creating a References Section" provide extensive guidelines for citing a variety of source types.
Writing at Work
APA is just one of several different styles with its own guidelines for documentation, formatting, and language usage. Depending on your field of interest, you may be exposed to additional styles, such as the following:
MLA style. Determined by the Modern Languages Association and used for papers in literature, languages, and other disciplines in the humanities.
Chicago style. Outlined in the Chicago Manual of Style and sometimes used for papers in the humanities and the sciences; many professional organizations use this style for publications as well.
Associated Press (AP) style. Used by professional journalists.
References List
The brief citations included in the body of your paper correspond to the more detailed citations provided at the end of the paper in the references section. In-text citations provide basic information—the author's name, the publication date, and the page number if necessary—while the references section provides more extensive bibliographical information. Again, this information allows your reader to follow up on the sources you cited and do additional reading about the topic if desired.
The specific format of entries in the list of references varies slightly for different source types, but the entries generally include the following information:
The name(s) of the author(s) or institution that wrote the source
The year of publication and, where applicable, the exact date of publication
The full title of the source
For books, the city of publication
For articles or essays, the name of the periodical or book in which the article or essay appears
For magazine and journal articles, the volume number, issue number, and pages where the article appears
For sources on the web, the URL where the source is located
The references page is double spaced and lists entries in alphabetical order by the author's last name. If an entry continues for more than one line, the second line and each subsequent line are indented five spaces. Review the following example. ( Chapter 13 "APA and MLA Documentation and Formatting" , Section 13.3 "Creating a References Section" provides extensive guidelines for formatting reference entries for different types of sources.)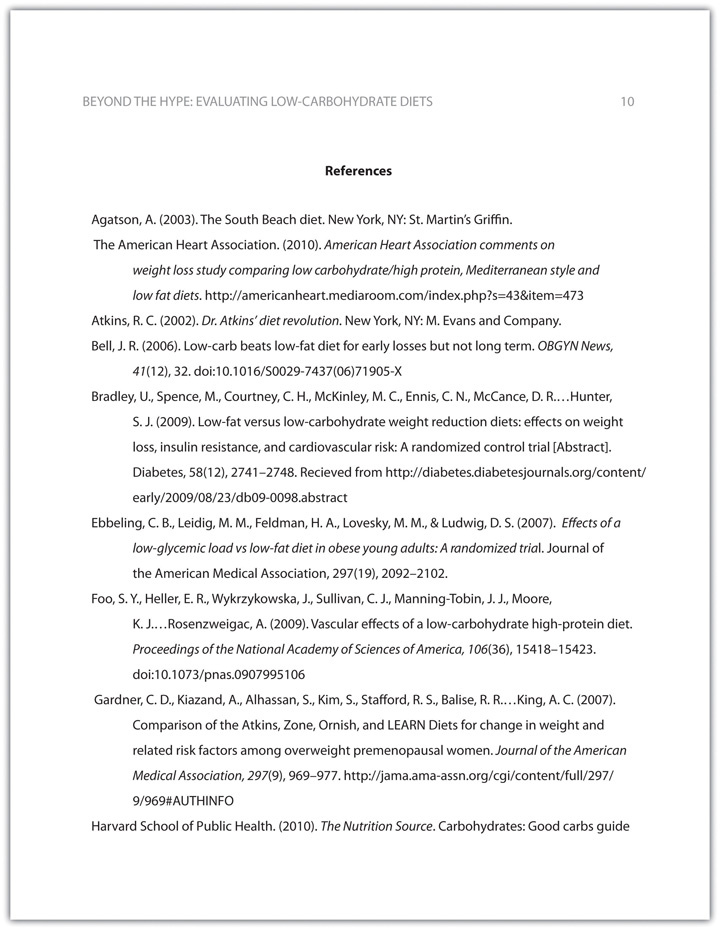 In APA style, book and article titles are formatted in sentence case, not title case. Sentence case means that only the first word is capitalized, along with any proper nouns.
Key Takeaways
Following proper citation and formatting guidelines helps writers ensure that their work will be taken seriously, give proper credit to other authors for their work, and provide valuable information to readers.
Working ahead and taking care to cite sources correctly the first time are ways writers can save time during the editing stage of writing a research paper.
APA papers usually include an abstract that concisely summarizes the paper.
APA papers use a specific headings structure to provide a clear hierarchy of information.
In APA papers, in-text citations usually include the name(s) of the author(s) and the year of publication.
In-text citations correspond to entries in the references section, which provide detailed bibliographical information about a source.
Writing for Success by University of Minnesota is licensed under a Creative Commons Attribution-NonCommercial-ShareAlike 4.0 International License , except where otherwise noted.
Search This Site All UCSD Sites Faculty/Staff Search Term
Contact & Directions
Climate Statement
Cognitive Behavioral Neuroscience
Cognitive Psychology
Developmental Psychology
Sensation & Perception
Social Psychology
Adjunct Faculty
Non-Senate Instructors
Researchers
Psychology Grads
Affiliated Grads
New and Prospective Students
Honors Program
Experiential Learning
Programs & Events
Psi Chi / Psychology Club
Prospective PhD Students
Current PhD Students
Area Brown Bags
Colloquium Series
Graduate Talk Series
Anderson Distinguished Lecture Series
Speaker Videos
Undergraduate Program
Academic and Writing Resources
Writing Research Papers
Whether you are writing a B.S. Degree Research Paper or completing a research report for a Psychology course, it is highly likely that you will need to organize your research paper in accordance with American Psychological Association (APA) guidelines.  Here we discuss the structure of research papers according to APA style.
Major Sections of a Research Paper in APA Style
A complete research paper in APA style that is reporting on experimental research will typically contain a Title page, Abstract, Introduction, Methods, Results, Discussion, and References sections. 1  Many will also contain Figures and Tables and some will have an Appendix or Appendices.  These sections are detailed as follows (for a more in-depth guide, please refer to " How to Write a Research Paper in APA Style ", a comprehensive guide developed by Prof. Emma Geller). 2
What is this paper called and who wrote it? – the first page of the paper; this includes the name of the paper, a "running head", authors, and institutional affiliation of the authors.  The institutional affiliation is usually listed in an Author Note that is placed towards the bottom of the title page.  In some cases, the Author Note also contains an acknowledgment of any funding support and of any individuals that assisted with the research project.
One-paragraph summary of the entire study – typically no more than 250 words in length (and in many cases it is well shorter than that), the Abstract provides an overview of the study.
Introduction
What is the topic and why is it worth studying? – the first major section of text in the paper, the Introduction commonly describes the topic under investigation, summarizes or discusses relevant prior research (for related details, please see the Writing Literature Reviews section of this website), identifies unresolved issues that the current research will address, and provides an overview of the research that is to be described in greater detail in the sections to follow.
What did you do? – a section which details how the research was performed.  It typically features a description of the participants/subjects that were involved, the study design, the materials that were used, and the study procedure.  If there were multiple experiments, then each experiment may require a separate Methods section.  A rule of thumb is that the Methods section should be sufficiently detailed for another researcher to duplicate your research.
What did you find? – a section which describes the data that was collected and the results of any statistical tests that were performed.  It may also be prefaced by a description of the analysis procedure that was used. If there were multiple experiments, then each experiment may require a separate Results section.
What is the significance of your results? – the final major section of text in the paper.  The Discussion commonly features a summary of the results that were obtained in the study, describes how those results address the topic under investigation and/or the issues that the research was designed to address, and may expand upon the implications of those findings.  Limitations and directions for future research are also commonly addressed.
List of articles and any books cited – an alphabetized list of the sources that are cited in the paper (by last name of the first author of each source).  Each reference should follow specific APA guidelines regarding author names, dates, article titles, journal titles, journal volume numbers, page numbers, book publishers, publisher locations, websites, and so on (for more information, please see the Citing References in APA Style page of this website).
Tables and Figures
Graphs and data (optional in some cases) – depending on the type of research being performed, there may be Tables and/or Figures (however, in some cases, there may be neither).  In APA style, each Table and each Figure is placed on a separate page and all Tables and Figures are included after the References.   Tables are included first, followed by Figures.   However, for some journals and undergraduate research papers (such as the B.S. Research Paper or Honors Thesis), Tables and Figures may be embedded in the text (depending on the instructor's or editor's policies; for more details, see "Deviations from APA Style" below).
Supplementary information (optional) – in some cases, additional information that is not critical to understanding the research paper, such as a list of experiment stimuli, details of a secondary analysis, or programming code, is provided.  This is often placed in an Appendix.
Variations of Research Papers in APA Style
Although the major sections described above are common to most research papers written in APA style, there are variations on that pattern.  These variations include: 
Literature reviews – when a paper is reviewing prior published research and not presenting new empirical research itself (such as in a review article, and particularly a qualitative review), then the authors may forgo any Methods and Results sections. Instead, there is a different structure such as an Introduction section followed by sections for each of the different aspects of the body of research being reviewed, and then perhaps a Discussion section. 
Multi-experiment papers – when there are multiple experiments, it is common to follow the Introduction with an Experiment 1 section, itself containing Methods, Results, and Discussion subsections. Then there is an Experiment 2 section with a similar structure, an Experiment 3 section with a similar structure, and so on until all experiments are covered.  Towards the end of the paper there is a General Discussion section followed by References.  Additionally, in multi-experiment papers, it is common for the Results and Discussion subsections for individual experiments to be combined into single "Results and Discussion" sections.
Departures from APA Style
In some cases, official APA style might not be followed (however, be sure to check with your editor, instructor, or other sources before deviating from standards of the Publication Manual of the American Psychological Association).  Such deviations may include:
Placement of Tables and Figures  – in some cases, to make reading through the paper easier, Tables and/or Figures are embedded in the text (for example, having a bar graph placed in the relevant Results section). The embedding of Tables and/or Figures in the text is one of the most common deviations from APA style (and is commonly allowed in B.S. Degree Research Papers and Honors Theses; however you should check with your instructor, supervisor, or editor first). 
Incomplete research – sometimes a B.S. Degree Research Paper in this department is written about research that is currently being planned or is in progress. In those circumstances, sometimes only an Introduction and Methods section, followed by References, is included (that is, in cases where the research itself has not formally begun).  In other cases, preliminary results are presented and noted as such in the Results section (such as in cases where the study is underway but not complete), and the Discussion section includes caveats about the in-progress nature of the research.  Again, you should check with your instructor, supervisor, or editor first.
Class assignments – in some classes in this department, an assignment must be written in APA style but is not exactly a traditional research paper (for instance, a student asked to write about an article that they read, and to write that report in APA style). In that case, the structure of the paper might approximate the typical sections of a research paper in APA style, but not entirely.  You should check with your instructor for further guidelines.
Workshops and Downloadable Resources
For in-person discussion of the process of writing research papers, please consider attending this department's "Writing Research Papers" workshop (for dates and times, please check the undergraduate workshops calendar).
Downloadable Resources
How to Write APA Style Research Papers (a comprehensive guide) [ PDF ]
Tips for Writing APA Style Research Papers (a brief summary) [ PDF ]
Example APA Style Research Paper (for B.S. Degree – empirical research) [ PDF ]
Example APA Style Research Paper (for B.S. Degree – literature review) [ PDF ]
Further Resources
How-To Videos     
Writing Research Paper Videos
APA Journal Article Reporting Guidelines
Appelbaum, M., Cooper, H., Kline, R. B., Mayo-Wilson, E., Nezu, A. M., & Rao, S. M. (2018). Journal article reporting standards for quantitative research in psychology: The APA Publications and Communications Board task force report . American Psychologist , 73 (1), 3.
Levitt, H. M., Bamberg, M., Creswell, J. W., Frost, D. M., Josselson, R., & Suárez-Orozco, C. (2018). Journal article reporting standards for qualitative primary, qualitative meta-analytic, and mixed methods research in psychology: The APA Publications and Communications Board task force report . American Psychologist , 73 (1), 26.  
External Resources
Formatting APA Style Papers in Microsoft Word
How to Write an APA Style Research Paper from Hamilton University
WikiHow Guide to Writing APA Research Papers
Sample APA Formatted Paper with Comments
Sample APA Formatted Paper
Tips for Writing a Paper in APA Style
1 VandenBos, G. R. (Ed). (2010). Publication manual of the American Psychological Association (6th ed.) (pp. 41-60).  Washington, DC: American Psychological Association.
2 geller, e. (2018).  how to write an apa-style research report . [instructional materials]. , prepared by s. c. pan for ucsd psychology.
Back to top  
Formatting Research Papers
Using Databases and Finding References
What Types of References Are Appropriate?
Evaluating References and Taking Notes
Citing References
Writing a Literature Review
Writing Process and Revising
Improving Scientific Writing
Academic Integrity and Avoiding Plagiarism
Writing Research Papers Videos
Have a language expert improve your writing
Run a free plagiarism check in 10 minutes, generate accurate citations for free.
Knowledge Base
Academic writing
How to write effective headings
How to Write and Format Headings in Academic Writing
Published on March 15, 2019 by Shane Bryson . Revised on November 28, 2022.
The goal of using headings in a document is not only to divide information, but also to allow easy navigation of the document. In academic writing , headings help readers find the specific information they want while retaining a sense of how that information fits with everything else in the document.
To test for overall heading clarity, ask yourself the following: from reading your headings in sequence, would an informed reader understand…
The content of the document as a whole?
The specific content of each section?
How each section fits with the others?
If not, your headings aren't effective , and may need some improvement.
Table of contents
Headings vs. titles, how long should headings be, using descriptive headings, technical terms in headings, capitalization, formatting and sequencing.
Although heading and titles are similar, they are distinct: A title leads the entire document and captures its content in one or two phrases; a heading leads only a chapter or section and captures only the content of that chapter or section. Read more in our article on writing good titles in academic writing .
Headings should be as long as it takes to clearly communicate the content of the sections they head. However, each heading should be as concise as possible – a good rule of thumb is to limit the heading length to one line.
Higher-level vs. lower-level headings
Higher-level headings often make do with a single word (e.g. " Introduction " or " Methods "), while lower-level headings are often longer. This is because higher-level headings cover more general content and provide an overview. One word is clear enough because everyone already knows what happens in an introduction chapter – nothing more needs to be said.
Lower-level headings should use more specific terminology to help clarify the content of the section. These headings help readers find the exact information they're looking for.
Receive feedback on language, structure, and formatting
Professional editors proofread and edit your paper by focusing on:
Academic style
Vague sentences
Style consistency
See an example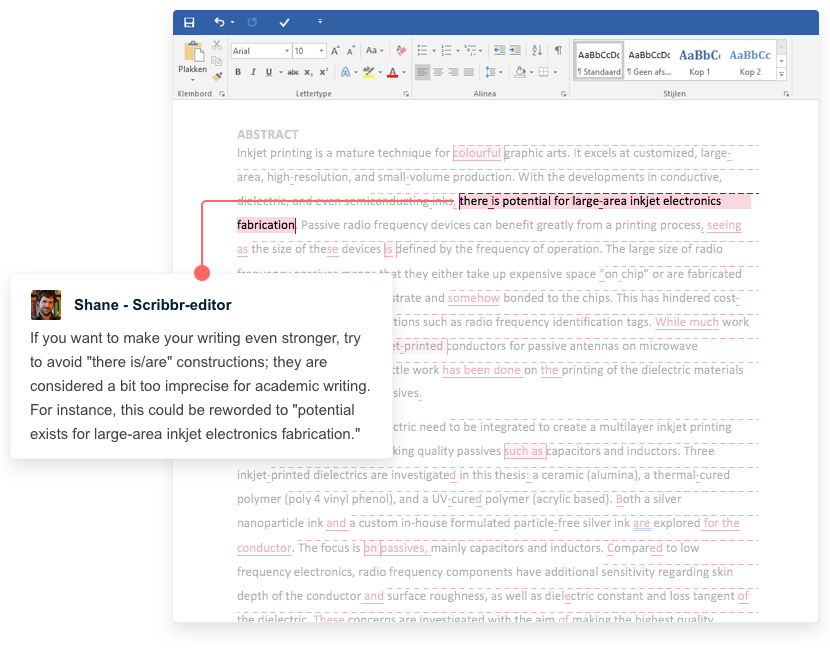 The main goal of a heading is to inform the reader of what content they can find in that section, so make your headings as descriptive as possible. The examples below show one non-descriptive heading and three descriptive headings that provide the reader with much more information.
Profile of GPS technology
Function of GPS in aviation
GPS before 1999
Avoiding repetitive headings
No two sections should focus on the exact same content, so no two headings should be identical. Instead of closing a chapter with "Summary," for example, try making the heading little more descriptive: "Summary of X ."
Documents in fields that rely heavily on jargon and technical language will contain headings that might not be clear to every reader. That's fine as long as you keep your reader's knowledge level in mind. However, if you don't need the jargon to give a specific idea of your content, then avoid it.
At the outset, make a plan for how you will deal with matters of  capitalization , formatting and sequencing of headings. Headings at the same level should be formatted the same. For instance, "Section 2.2" should get the same treatment as "Section 4.1". They should also have parallel structure .
Often, your style guide or university will offer specific directions on how to approach the capitalization, formatting, and sequencing of headings, so it's wise to check before you start writing them. For example,  APA headings and MLA headings  require specific formatting.
Using automatic heading styles in Word
To avoid having to format each heading separately, it's smart to use the heading styles feature offered by Microsoft Word, Google Docs and many other word-processing softwares.
An extra benefit of using these heading styles is that you can automatically generate and update a table of contents. This will save you a lot of time later on. Read more about this in our article on creating a  table of contents .
Cite this Scribbr article
If you want to cite this source, you can copy and paste the citation or click the "Cite this Scribbr article" button to automatically add the citation to our free Citation Generator.
Bryson, S. (2022, November 28). How to Write and Format Headings in Academic Writing. Scribbr. Retrieved February 27, 2023, from https://www.scribbr.com/academic-writing/effective-headings/
Is this article helpful?
Shane Bryson
Shane finished his master's degree in English literature in 2013 and has been working as a writing tutor and editor since 2009. He began proofreading and editing essays with Scribbr in early summer, 2014.
Other students also liked
Capitalization in titles and headings, apa headings and subheadings, forging good titles in academic writing, what is your plagiarism score.
AI Content Shield
AI KW Research
AI Assistant
SEO Optimizer
AI KW Clustering
SEO Rocket Program
Help Center
1-1 INK Demo
Content Resources
Join Discord
Facebook Group
Press Center
Affiliate partners
Easy Style Guide for Research Paper Subheadings
Table of contents.
Whether you're writing in the APA or MLA format, there are rules that you need to follow. These rules help standardize research papers' structure, making them easy to read and evaluate. This article explains the rules for completing  research paper subheadings .
If you want to learn to write proper academic paper subheadings, read on.
What are Research Paper Subheadings?
Research paper subheadings are the most essential part of your paper. Your subheadings are the headings that appear in italics at the top of each page. They give the reader an idea of what to expect throughout the text and serve as tags in a research paper. They may also make it easier to refer to specific ideas or arguments in the article.
Research paper subheadings also improve the readability and flow of a paper, and it helps separate ideas. This helps readers fully grasp your meaning and follow your arguments.
Naming Sections and Subsections
Naming sections and subsections are essential because they will be referred to in the text. Subsections can be named in various ways, including by title or phrase representative of their content.
A research paper's main sections are often specific to the journal, but some sections are standard in all papers. As a general rule, it's essential to pay attention to the prescribed style for your paper (e.g., APA, MLA) .
Author instructions will also provide guidelines for writing your sections.
Rules for Research Paper Subheadings
Headers represent the content found in the different sections of your paper. They need to be descriptive and concise. This explains why the main sections of many articles have similar or exact headers such as:
These main sections are divided into subsections representing a facet of the main section. Think of it this way: Your research article is a tree made up of branches (Headings) that further separate into smaller branches ( Subheadings ). To fully grasp the concept of a tree, one needs to appreciate all its parts.
APA style headings structure:
If you're writing a journal in the APA style, you're allowed to use a maximum of five levels of headings. This depends greatly on your journal's length, the complexity of topics, and personal preference.
Every header has a different format to indicate a shift to a new section. These headers usually don't have numbering because the difference in the design already indicates a change of section. The different heading levels and their formats are illustrated below:
Level 1 Centered, Bold, Title Case
The text begins as a new paragraph.
Level 2 Left-aligned, Bold, Title Case
Level 3 left-aligned, bold italic, title case, level 4 indented, bold, title case, period . the text starts on the same line and continues as a regular paragraph., level 5 indented, bold italic, title case, period. the text starts on the same line and continues as a regular paragraph..
Again, these are the standard header formatting rules for APA. It's important to take note of particular formatting rules included in the author instructions for your journal.
MLA paper headings example structure:
The MLA structure doesn't require authors to follow exact rules for sectioning their articles. The structure needs to be consistent with general formatting guidelines such as:
12-pts Times New Roman font
Double-spaced text
0.5-inch indentation for each new paragraph
Sections must also be written in title case (Capitalize major words and use lowercase for minor words). Below is an example of MLA section levels:
1. Introduction
2. Material and Methods
2.1 Subject Recruitment
2.2 Experimental Procedure
2.3 Statistical Analysis
3.1 Experiment 1
3.2 Experiment 2
4. Discussion
5. Conclusion
The MLA research style isn't as strict as APA. It only requires authors to observe formatting standards for both types.
Subsection formats are essential in academic writing because they signify a shift in the subject matter . APA and MLA styles have different rules for sectioning. If you need help understanding these rules, feel free to revisit our style guide any time. Good luck with your research paper!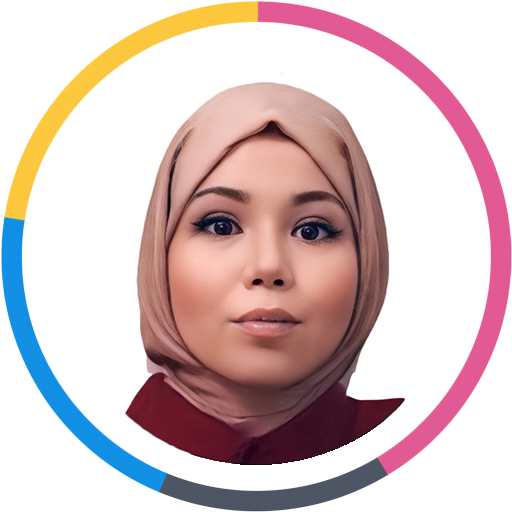 Abir Ghenaiet
Abir is a data analyst and researcher. Among her interests are artificial intelligence, machine learning, and natural language processing. As a humanitarian and educator, she actively supports women in tech and promotes diversity.
Explore All Subheading Articles
Subheadings writing guide: overview, benefits & tips.
An essential part of writing is the order in which key thoughts are labeled. Key points are often labeled with…
Using Subheadings For a Paper With MLA
The Modern Language Association created the MLA-style referencing system for literary works. The writing style provides a flexible framework for…
Whether you're writing in the APA or MLA format, there are rules that you need to follow. These rules help…
Subheadings in Writing: Meaning and Examples
Do you want to divide your text into multiple parts? You must consider reading this article with an example of…
Recommended Guidelines for Using the Chicago Style Format
There are several formatting styles when it comes to writing research papers. Though not without their criticisms, the format for…
How to Use an Essay Subheading Properly
Some essay sub-headings are similar to signposts of topics you will discuss in your paper. They are simply a way…

Boston College Libraries
Writing an Educational Research Paper
Research paper sections, customary parts of an education research paper.
There is no one right style or manner for writing an education paper. Content aside, the writing style and presentation of papers in different educational fields vary greatly. Nevertheless, certain parts are common to most papers, for example:
Title/Cover Page
Contains the paper's title, the author's name, address, phone number, e-mail, and the day's date.
Not every education paper requires an abstract. However, for longer, more complex papers abstracts are particularly useful. Often only 100 to 300 words, the abstract generally provides a broad overview and is never more than a page. It describes the essence, the main theme of the paper. It includes the research question posed, its significance, the methodology, and the main results or findings. Footnotes or cited works are never listed in an abstract. Remember to take great care in composing the abstract. It's the first part of the paper the instructor reads. It must impress with a strong content, good style, and general aesthetic appeal. Never write it hastily or carelessly.
Introduction and Statement of the Problem
A good introduction states the main research problem and thesis argument. What precisely are you studying and why is it important? How original is it? Will it fill a gap in other studies? Never provide a lengthy justification for your topic before it has been explicitly stated.
Limitations of Study
Indicate as soon as possible what you intend to do, and what you are not going to attempt. You may limit the scope of your paper by any number of factors, for example, time, personnel, gender, age, geographic location, nationality, and so on.
Methodology
Discuss your research methodology. Did you employ qualitative or quantitative research methods? Did you administer a questionnaire or interview people? Any field research conducted? How did you collect data? Did you utilize other libraries or archives? And so on.
Literature Review
The research process uncovers what other writers have written about your topic. Your education paper should include a discussion or review of what is known about the subject and how that knowledge was acquired. Once you provide the general and specific context of the existing knowledge, then you yourself can build on others' research. The guide Writing a Literature Review will be helpful here.
Main Body of Paper/Argument
This is generally the longest part of the paper. It's where the author supports the thesis and builds the argument. It contains most of the citations and analysis. This section should focus on a rational development of the thesis with clear reasoning and solid argumentation at all points. A clear focus, avoiding meaningless digressions, provides the essential unity that characterizes a strong education paper.
After spending a great deal of time and energy introducing and arguing the points in the main body of the paper, the conclusion brings everything together and underscores what it all means. A stimulating and informative conclusion leaves the reader informed and well-satisfied. A conclusion that makes sense, when read independently from the rest of the paper, will win praise.
Works Cited/Bibliography
See the Citation guide .
Education research papers often contain one or more appendices. An appendix contains material that is appropriate for enlarging the reader's understanding, but that does not fit very well into the main body of the paper. Such material might include tables, charts, summaries, questionnaires, interview questions, lengthy statistics, maps, pictures, photographs, lists of terms, glossaries, survey instruments, letters, copies of historical documents, and many other types of supplementary material. A paper may have several appendices. They are usually placed after the main body of the paper but before the bibliography or works cited section. They are usually designated by such headings as Appendix A, Appendix B, and so on.
<< Previous: Choosing a Topic
Next: Find Books >>
Last Updated: Jan 19, 2023 11:56 PM
Subjects: Education
Tags: education , education_paper , education_research_paper
Organizing Academic Research Papers: Purpose of Guide
Purpose of guide.
Design Flaws to Avoid
Glossary of Research Terms
Narrowing a Topic Idea
Broadening a Topic Idea
Extending the Timeliness of a Topic Idea
Academic Writing Style
Choosing a Title
Making an Outline
Paragraph Development
Executive Summary
Background Information
The Research Problem/Question
Theoretical Framework
Citation Tracking
Content Alert Services
Evaluating Sources
Primary Sources
Secondary Sources
Tertiary Sources
What Is Scholarly vs. Popular?
Qualitative Methods
Quantitative Methods
Using Non-Textual Elements
Limitations of the Study
Common Grammar Mistakes
Avoiding Plagiarism
Footnotes or Endnotes?
Further Readings
Annotated Bibliography
Dealing with Nervousness
Using Visual Aids
Grading Someone Else's Paper
How to Manage Group Projects
Multiple Book Review Essay
Reviewing Collected Essays
About Informed Consent
Writing Field Notes
Writing a Policy Memo
Writing a Research Proposal
Acknowledgements
This guide is intended to help you organize and write a quality academic research paper. Also included are recommendations regarding how to manage specific course assignments. Note that, if you have specific questions about how to write a research paper, you should always seek advice from your professor before you begin. Specific requirements stated by your professor will always supersede instructions provided in these general guidelines.
Thanks to Dr. Robert V. Labaree of the Von KleinSmid Center Library for International and Public Affairs, University of Southern California Libraries , for sharing the content of this guide.
Additional Help
Jandrisevits Learning Center (JLC)
The JLC is SHU's central academic support service and is open to all SHU students. Our mission is to provide academic support to strengthen student learning and empower every student to develop as self-directed learners. JLC tutors see each student as a holistic learner, paying attention to the importance of cognition as well as to the emotional aspects of learning.
Academic Support Services include 1-on-1 tutoring with Professional and Peer tutors; group study sessions for particular courses by Classroom Learning Assistants (CLAs); monthly workshops on specific academic and life skills; specialized Learning Labs in math, critical reading and writing, accounting, and math; and online writing support (OWL).
Printable Tutorial - JLC Online Writing Lab
More resources from SHU
Navigating the Research Process by Reference Librarians Last Updated Jun 2, 2022 136 views this year
Zotero by Jeffrey Orrico Last Updated Mar 22, 2021 442 views this year
First Year Seminar (FYS) Research & Writing Guide by Reference Librarians Last Updated Oct 13, 2022 144 views this year
BU121 - Introduction to Business by Libby Knapik Last Updated Sep 8, 2021 16 views this year
Company and Industry Research by Libby Knapik Last Updated Oct 17, 2022 59 views this year
Patents and Trademarks by Libby Knapik Last Updated Apr 25, 2022 164 views this year
Next: Types of Research Designs >>
Last Updated: Dec 8, 2022 2:24 PM
URL: https://library.sacredheart.edu/c.php?g=29803
QuickSearch
Library Catalog
Databases A-Z
Publication Finder
Course Reserves
Citation Linker
Digital Commons
Research Support
Ask a Librarian
Appointments
Interlibrary Loan (ILL)
Research Guides
Databases by Subject
Citation Help
Using the Library
Reserve a Group Study Room
Renew Books
Honors Study Rooms
Off-Campus Access
Library Policies
Library Technology
User Information
Grad Students
Online Students
COVID-19 Updates
Staff Directory
News & Announcements
Library Newsletter
My Accounts
Interlibrary Loan
Staff Site Login
FIND US ON